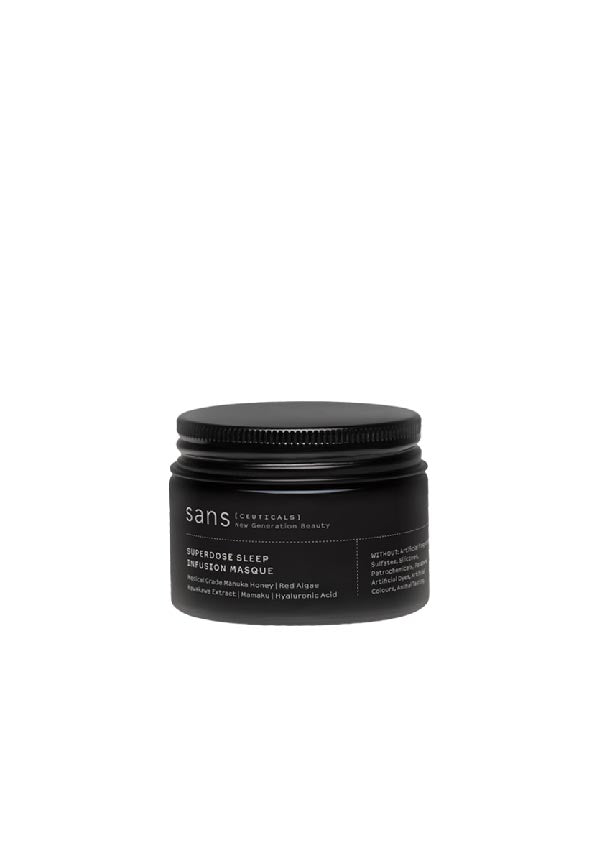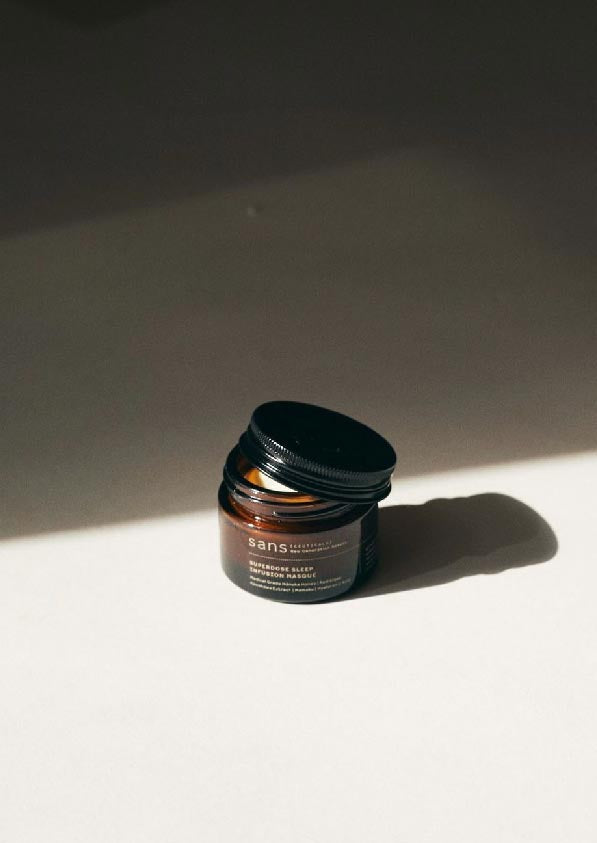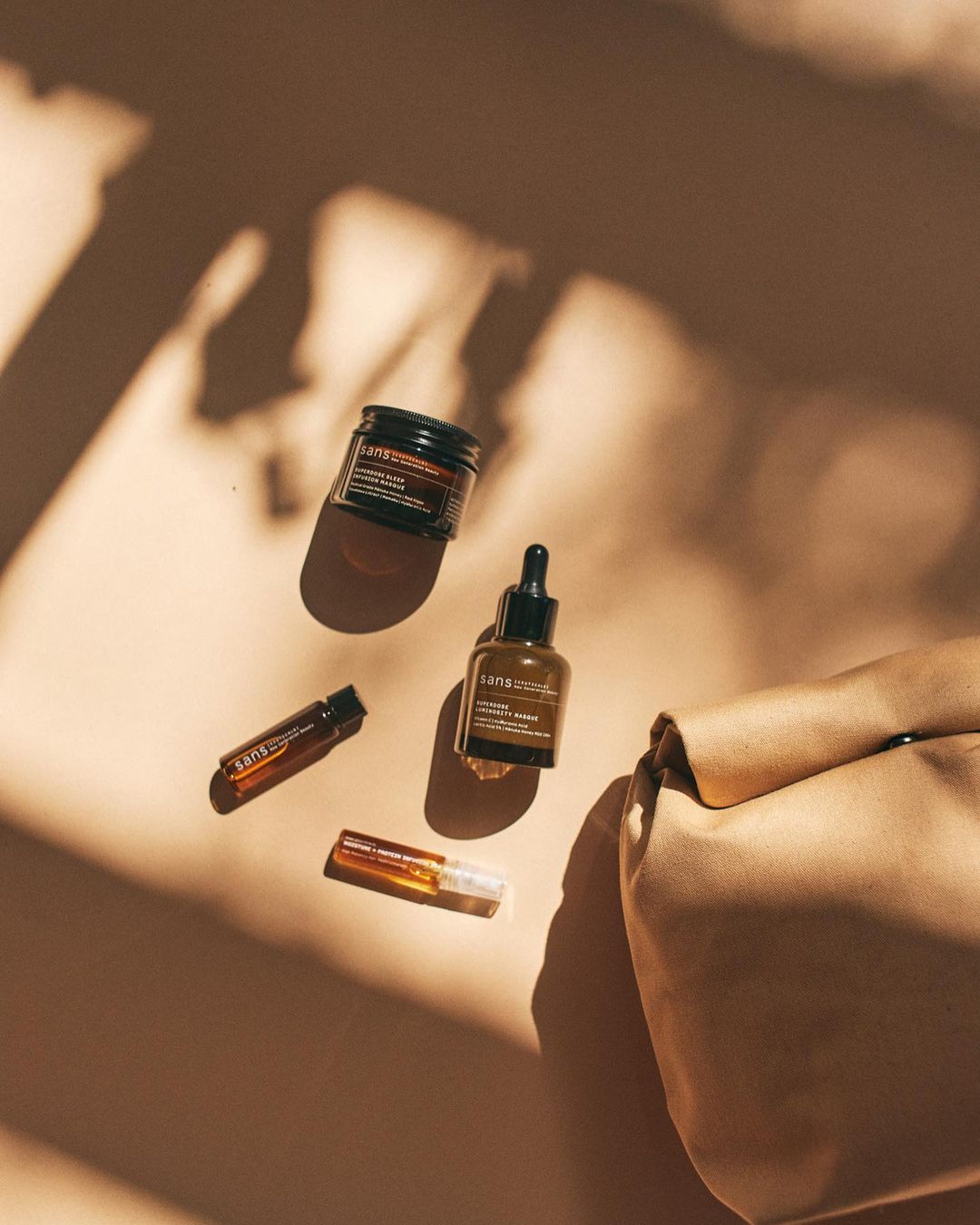 鎮靜修護睡眠面膜 | Superdose Sleep Infusion Masque
Sale price

HK$559.00
Regular price
(/)
Pickup available at afterhours. Studio
Usually ready in 24 hours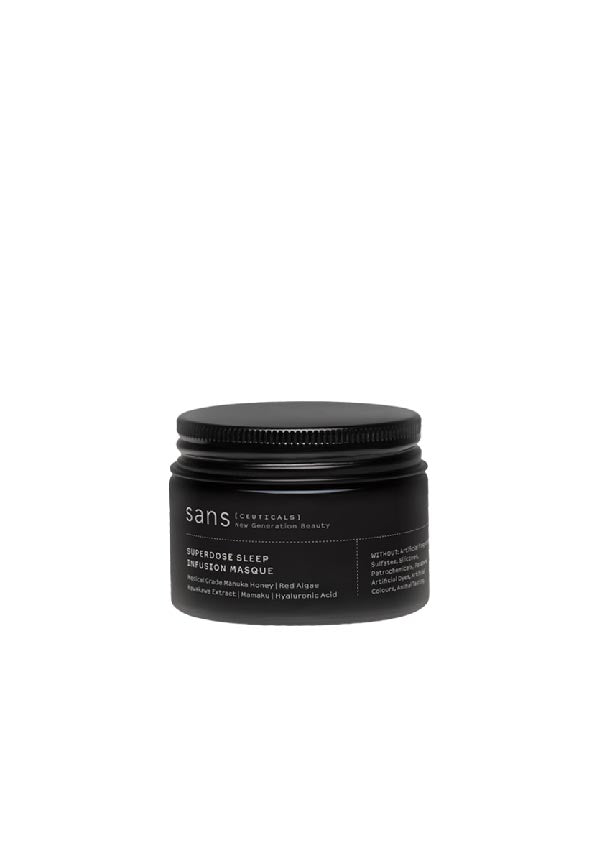 鎮靜修護睡眠面膜 | Superdose Sleep Infusion Masque
afterhours. Studio
Pickup available, usually ready in 24 hours
afterhours.
5B, KT ONE, 158 Wai Yip Street
Kwun Tong
Kowloon Hong Kong SAR
+85295422337
空氣污染、壓力和接觸刺激性化學物會擾亂皮膚微生物群,從而引起炎症、刺激和發紅,加速皮膚老化。

Superdose鎮靜修護睡眠面膜使用了強大的活性成分混合物:紅藻、Mamaku、麥盧卡蜂蜜和卡瓦卡瓦。通過一種精密、無化學物質的工藝提取,形成一種高度抗炎的混合物,可以舒緩、鎮靜和治癒皮膚。通過我們奢華的夜間密集護理喚醒容光煥發的肌膚。

Environmental aggressors, stress and exposure to harsh chemicals can significantly disturb the skin microbiome causing inflammation, irritation and redness, which accelerate cellular ageing.
We use a synergistic blend of powerful New Zealand actives. Red Algae, Mamaku, Mãnuka Honey and Kawakawa are extracted via a sophisticated, chemical-free process that permits full potency and activity. When blended, all come together to create a highly anti-inflammatory tool in soothing, calming and healing the skin. Wake to restored, radiant skin with our luxurious overnight treatment.

HIGHLY RECOMMENDED FOR
+ 鎮靜和舒緩發炎、受刺激的皮膚
+ 幫助治癒療程後的敏感皮膚
+ 消除瑕疵
+ 減少泛紅
+ 平衡油性和易長粉刺的皮膚
+ 提供高濃度營養而不會引起痘痘

HERO INGREDIENTS
Mamaku
脫水是令皮膚受刺激的原因之一。Mamaku 具有出色的極速保濕和鎖水能力,還有強大的抗氧化和抗污染性能。
A key cause of irritation is dehydration. Mamaku has an outstanding ability to rapidly hydrate and hold moisture in the skin. It also possesses outstanding antioxidant and antipollution properties.

紅藻 Red Algae
新西蘭本土紅藻提取物,可有效舒緩和鎮靜炎症,並幫助泛紅的皮膚褪紅。
Native New Zealand Red Algae extract down-regulates inflammatory activity, calming and de-reddening the skin.

卡瓦卡瓦 Kawa Kawa
經常應用在毛利人(新西蘭原住民)的Rongoa傳統療法中。高濃度的生物活性化合物具有高水平的抗炎活性,而牡荊苷和欖香素具有抗微生物活性。
Commonly used by Mãori in Rongoa [traditional healing]. High concentrations of bioactive compounds diayangambin, elemicin and myristicin possess high levels of anti- inflammatory activity, while vitexin glucoside and elemicin possess antimicrobial activity.

醫用級麥盧卡蜂蜜 Medical-grade Mānuka honey
源自新西蘭,具有高度抗菌和消炎特性。提供出色的癒合性能,可加速傷口自然修復。它亦有很好的保濕效果,可以把水分吸收到皮膚中以進行滋養和恢復,助於平衡皮膚的pH值。
New Zealand sourced, medical-grade Mãnuka honeyis highly valued for its antimicrobial and anti- inflammatory properties, accelerating natural wound repair to provide outstanding healing properties. It works as a humectant, drawing vital moisture into the skin to nourish and restore. It also helps to balance skin pH levels.

維生素B5 VitaminB5
合併及保持皮膚中的水分,使其滋養柔軟。它具有抗炎特性,幫助傷口癒合並恢復皮膚屏障。
Binds to and holds water in the skin, leaving it nourished, soft and supple. It possesses anti- inflammatory properties, stimulates wound healing and restores the function of the skin barrier.

TIPS + MULTIFUNCTIONAL USE
洗臉後用毛巾擦乾皮膚水分的,然後塗抹厚厚一層在面部和頸部區域。請勿擦走。為獲得最佳效果,請在睡前 30 分鐘塗抹,配合按摩讓面膜充分吸收,並在夜間為皮膚注入活性成分,喚醒肌膚,令肌膚平靜、柔軟。
Apply a generous layer to clean, towel-dried skin, covering the face and neck area. Do not rub in. For best results, apply 30 minutes before bed, allowing masque to fully absorb and actives to infuse overnight. Massage residual product in prior to sleeping and wake to calm, supple skin.

預防保養:每週 1-2 次(正常至乾燥,想要保持健康有彈性的皮膚)。
修復 + 恢復保養:每天睡前塗抹。在極端情況下,早上也可以使用(包括極敏感、發紅、皮疹、腫塊、發癢、緊繃、脫水皮膚)。

50ml
SANS PRO-FACIAL:PRO-FACIAL DUOStep ①

:使用極緻多合一全效

面膜敷

5

分鐘。

Step ②

:再使用鎮靜修護睡眠面膜

敷過夜。
這強大的組合可提供專業的結果。Step①作用是重塑和去除死皮細胞,以便更好地滲透接下來的活性物質。它還可以糾正皮膚的微生物組和 pH值,使皮膚更健康。 Step②則提供密集的滋養、抗炎活性和癒合作用,結果是全方位健康和發亮的皮膚。

When combined, this powerful duo delivers professional-only results. The role of Superdose Luminosity Masque is to resurface and remove dead skin cells to allow for better penetration of actives. It also corrects the skin's microbiome and pH for healthier functioning skin. Superdose Sleep Infusion Masque delivers an intensive hit of nourishment, anti-inflammatory activity and healing.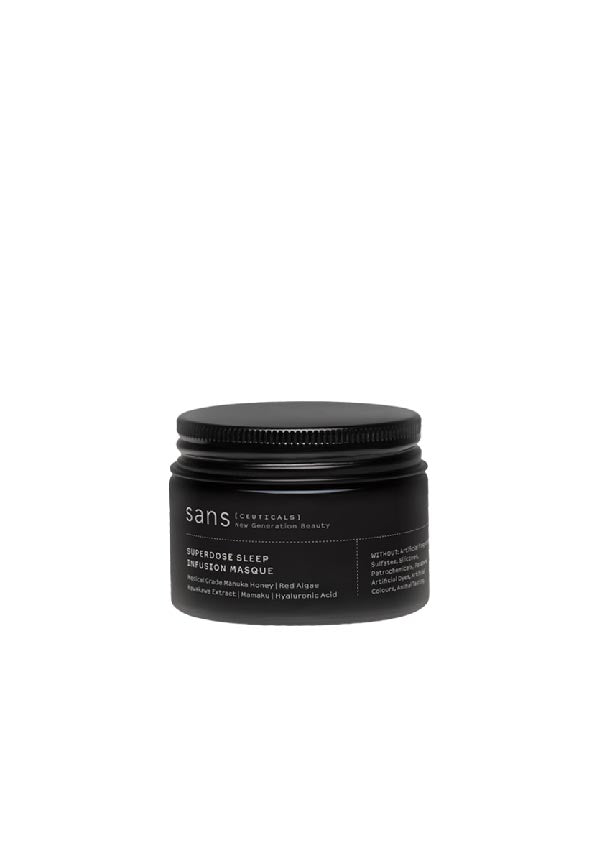 鎮靜修護睡眠面膜 | Superdose Sleep Infusion Masque
Sale price

HK$559.00
Regular price
Choose options