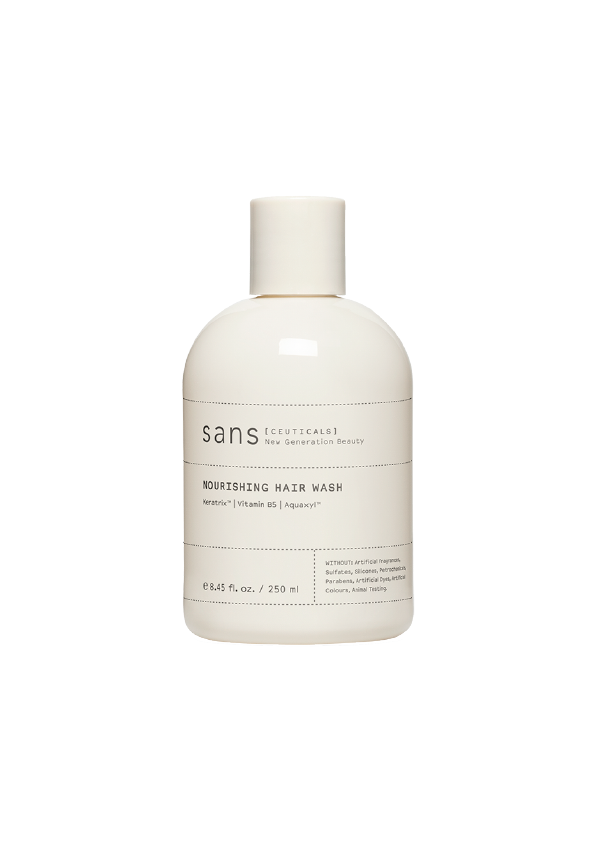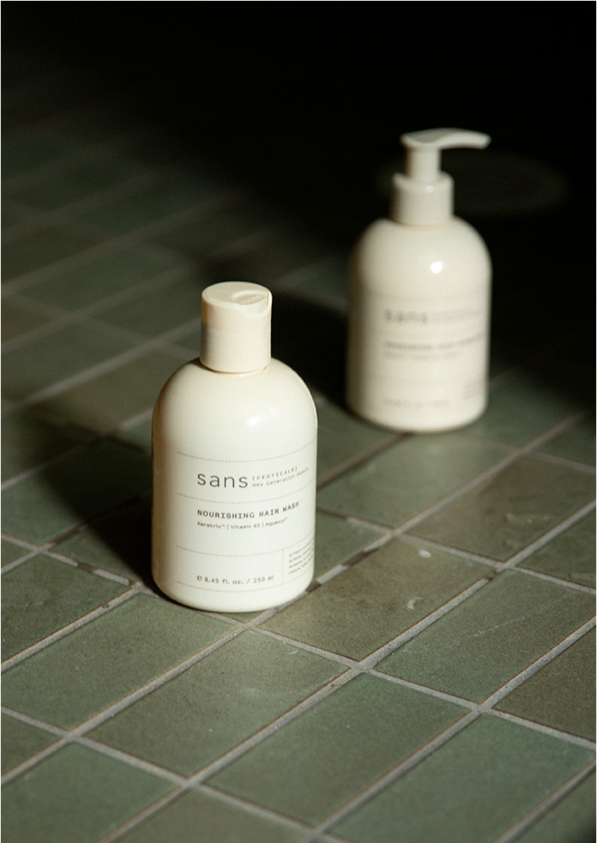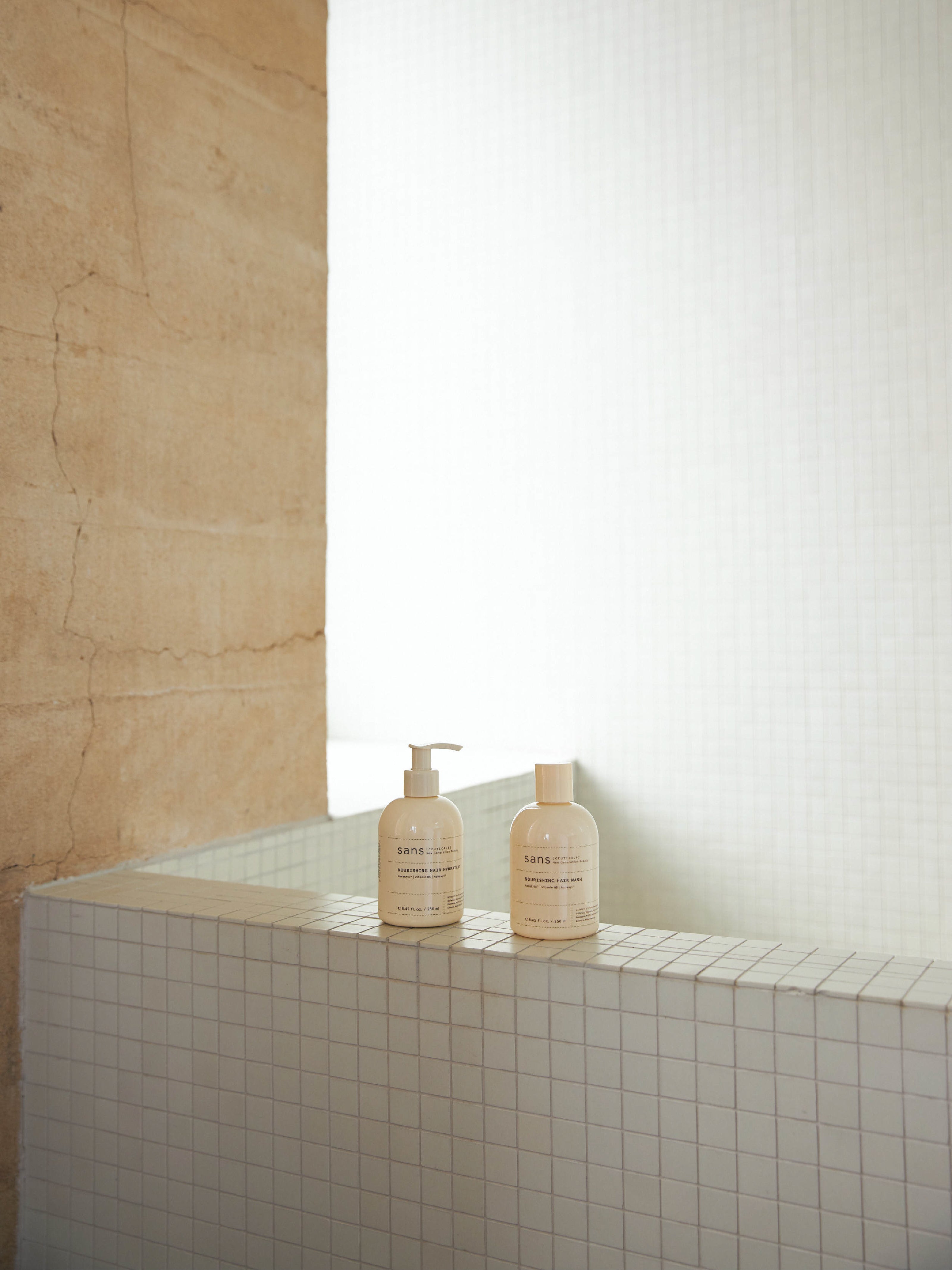 滋養洗髮乳 | Nourishing Hair Wash
Sale price

HK$219.00
Regular price
(/)
Pickup available at afterhours. Studio
Usually ready in 24 hours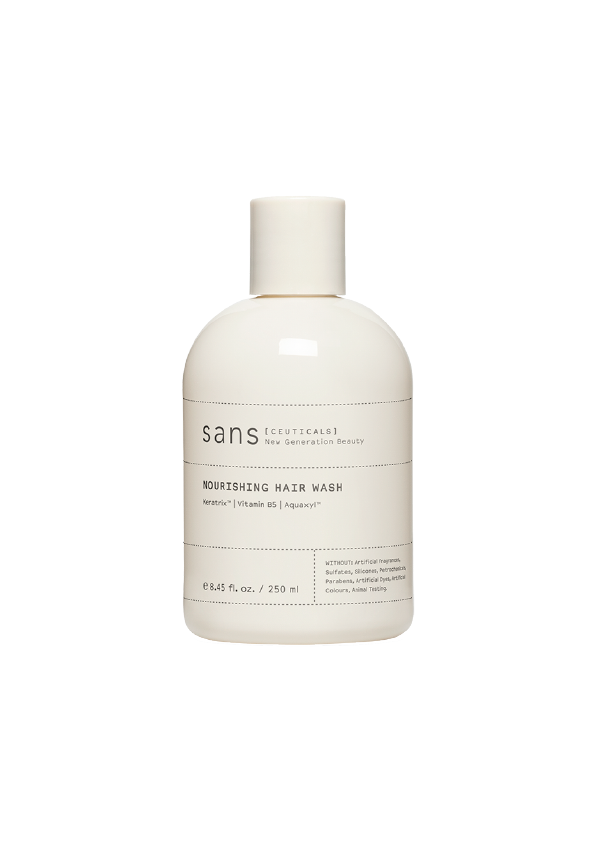 滋養洗髮乳 | Nourishing Hair Wash
afterhours. Studio
Pickup available, usually ready in 24 hours
afterhours.
5B, KT ONE, 158 Wai Yip Street
Kwun Tong
Kowloon Hong Kong SAR
+85295422337


滋潤、奢華的配方,可為髮絲強力保濕,同時為頭髮提供鎖色和熱力保護。超強劑量的強化和修復成分,使您的頭髮絲絨般柔滑。

洗髮過程應該是溫和的,在潔淨同時不會剝削頭髮的養分。我們所有的洗滌物均不含硫酸鹽,並採用可持續成分精製而成。

A rich and luxurious formula for intense hydration while also providing superior colour and thermal protection for your hair. Delivers a super dose of strengthening and reparative ingredients to leave your hair feeling soft and velvet smooth. Cleansing should be a mild and gentle process, protecting the hair without stripping it of its essential elements. All our washes are sulfate-free and crafted from sustainable ingredients.

SANS SCIENCE
sans的科學觀點:最健康的頭髮必須蛋白質、脂質和水分三方面平衡。 我們會根據這個理論調配洗護產品,來保持頭髮的強壯健康。
Healthy hair has a balance of protein, lipids and moisture. When we formulate our Hydratants, we dial up these essential elements to maintain healthy, strong hair.

HIGHLY RECOMMENDED FOR
+ 乾性頭髮 Dry hair
+ 漂染頭髮 Coloured hair
+ 曾使用角蛋白的頭髮 Keratin treated hair
+ 容易捲曲的頭髮 Frizz-prone hair

HOW TO USE
二次清潔的重要性:我們建議每次洗頭進行兩次清潔,同時減少每週洗頭的次數。
請在濕髮上試用,按摩頭皮並停留幾分鐘,當中的活性成分能夠護理頭皮, 沖洗並重複以上動作一次。第一次會洗走頭皮的殘留物,第二次即是深層清潔頭皮。
For best results, we recommend double cleansing and reducing the amount of times you wash your hair each week.Lather a small amount between the palms of your hands and apply to wet hair. Massage and leave in for a few minutes, allowing the actives to treat the hair and scalp. Rinse and repeat.
The first cleanse breaks the surface tension of the hair allowing the second to interact with the hair fibre to form a rich lather and perform a more thorough cleanse.

HERO INGREDIENTS
KERATRIX ™
一種獲得專利的營養複合物,可增強頭髮強度和彈性,並修復因熱力、漂染、電髮等過程引起的損傷。它的持續釋放系統使它可以延長留在頭髮纖維上,修復頭髮的時間。
A patented complex that increases hair strength and elasticity, and repairs the damage caused by mechanical, thermal and chemical processes. Its sustained-release system allows it to remain on the hair fibre for prolonged action.

維生素B5 VitaminB5
具有出色的平滑和光澤功能。極細的分子,使它可以穿透毛鱗片,增強頭髮韌性和耐熱性,使其不易折斷,回復豐盈蓬鬆。
Possesses exceptional smoothing and shine capabilities. It also has a small molecule, allowing it to penetrate the hair cuticle to provide strength, resistance and volume.

各種分子量蛋白質 Varied Molecular Weight Proteins
小分子蛋白質能夠穿透頭髮纖維的表皮層以增強強度和抵抗力。
Small molecular proteins are able to penetrate the cuticle layer of the hair fibre to build strength and resistance.

甜菜提取物 Sugar Beet Extract
一種強力的保濕劑和抗刺激劑,可促進水合作用,同時舒緩和鎮定頭皮。
A powerful humectant and anti-irritant, sugar beet extract boosts hydration while soothing and calming the scalp.

AQUAXYL ™
一種獲得專利的營養複合物,可提供強烈的水合作用並保護頭髮纖維。
A patented complex that provides intense hydration and protects the hair fibre.

INGREDIENTS
椰油酰胺基丙基甜菜鹼,月桂酰羥乙基磺酸鈉,水解小麥蛋白,甜菜鹼,月桂基葡萄糖苷和檸檬酸硬脂酯,泛醇[維生素原B5],KERATRIX™-水解鹿角藤Silaqua [角豆樹]種子提取物,Zea Mays [玉米]澱粉,瓜爾膠羥丙基三氯化銨,AQUAXYL™-木糖醇葡萄糖苷和羥木糖醇和木糖醇,瓜爾膠羥丙基三氯化銨,磷酸三鈉乙二胺二琥珀酸,山梨酸鉀,脫氫乙酸和芐醇,檸檬酸,香氣,水,聚季銨鹽7
Cocamidopropyl Betaine, Sodium Lauroyl Methyl Isethionate, Hydrolyzed Wheat Protein, Betaine, Lauryl, Glucoside & Stearyl Citrate, Panthenol [Provitamin B5], KERATRIX™ - Hydrolyzed Ceratonia Silaqua [Carob] Seed Extract, Zea Mays [Corn] Starch, Guar Hydroxypropyltrimonium Chloride, AQUAXYL™ - Xylitylglucoside & Anhydroxylitol & Xylitol, Guar Hydroxypropyltrimonium Chloride, Trisodium Ethylenediamine Disuccinate, Potassium Sorbate, Dehydroacetic Acid & Benzyl Alcohol, Citric Acid, Fragrance, Aqua, Polyquaternium-7

WITHOUT
沒有動物測試,人造香料,硫酸鹽,矽酮,石化產品,對羥基苯甲酸酯,PEG,鄰苯二甲酸鹽或人造色素。
Animal testing, artificial fragrances, sulfates, silicones, petrochemicals, parabens, PEGs, phthalates or artificial colours.

250ml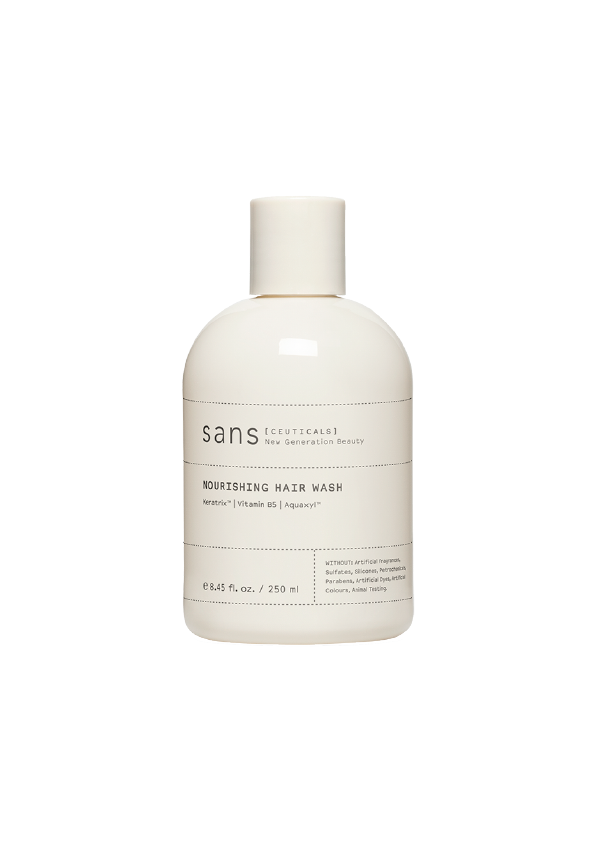 滋養洗髮乳 | Nourishing Hair Wash
Sale price

HK$219.00
Regular price
Choose options