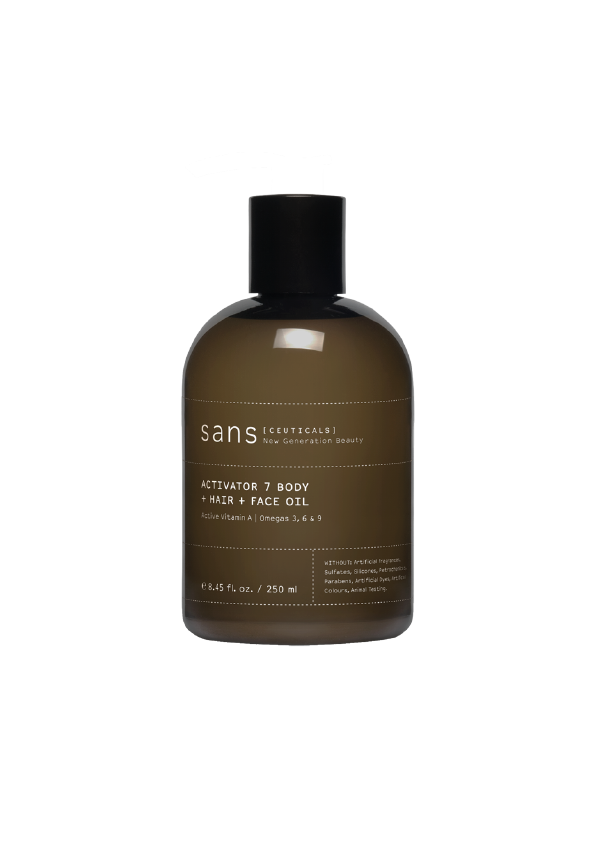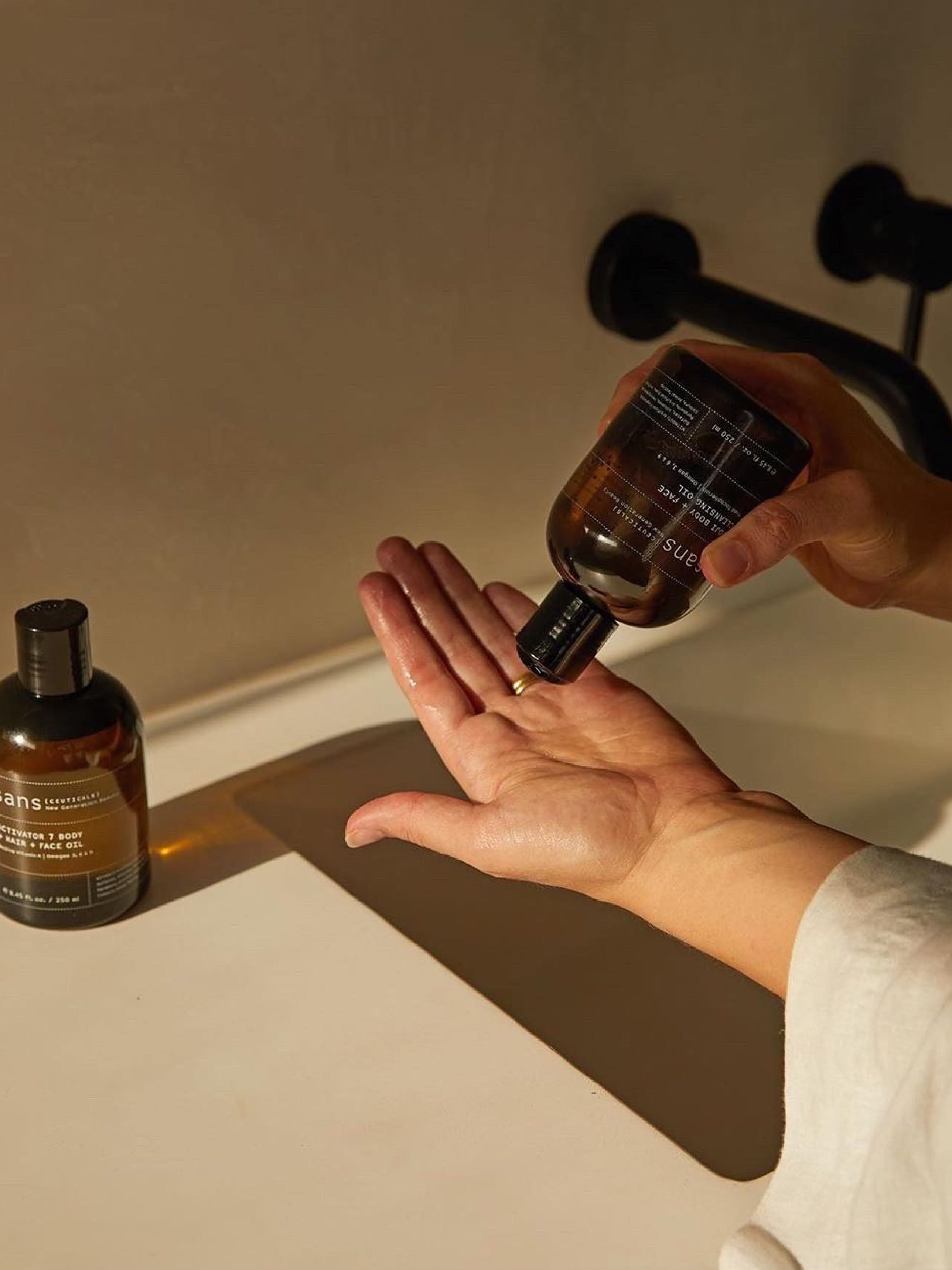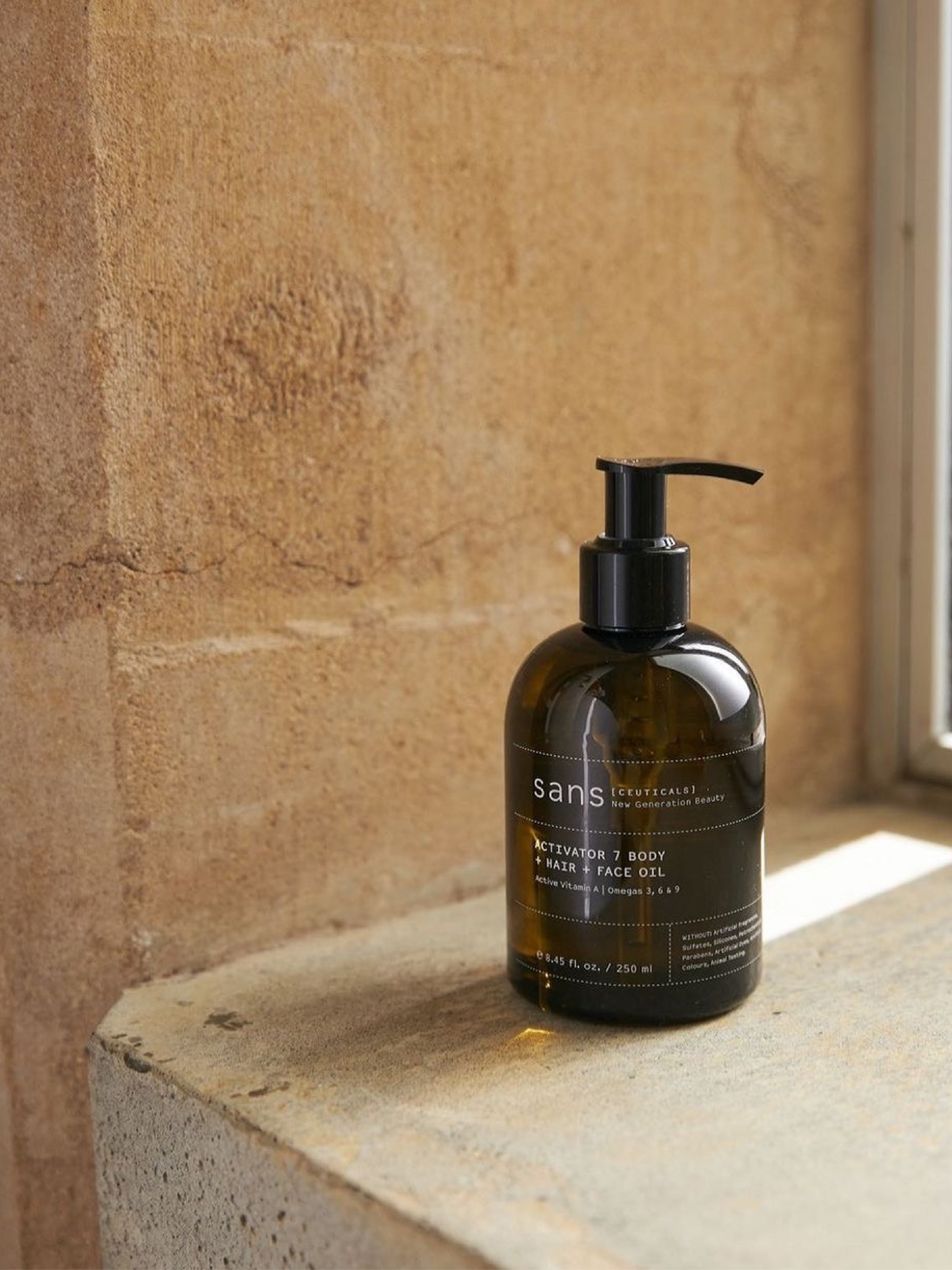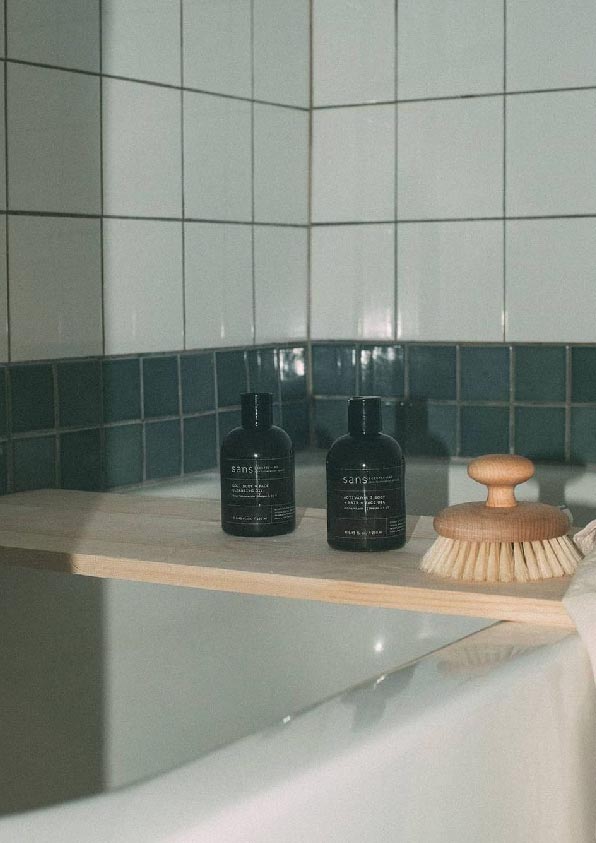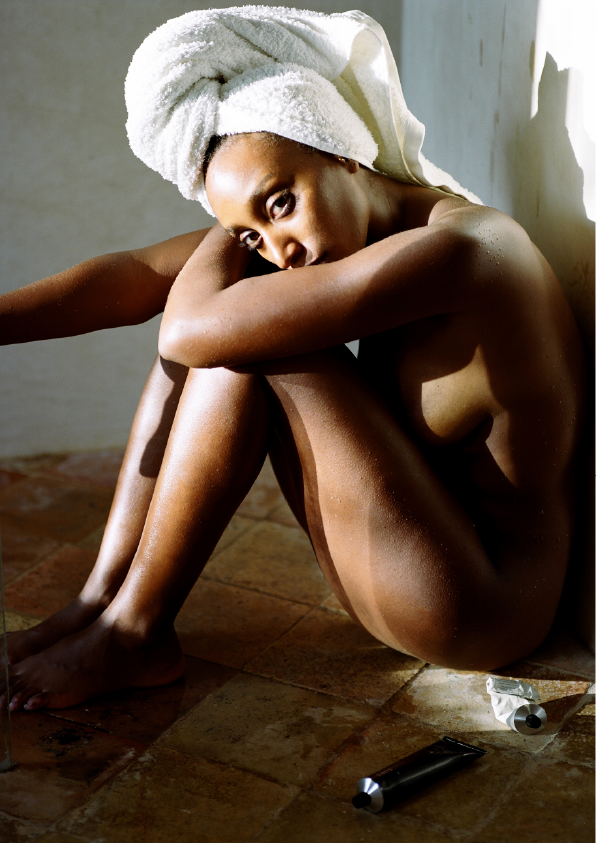 三合一身體保養油 | Activator 7 Body+Hair+Face Oil
Sale price

HK$319.00
Regular price
(/)
Pickup available at afterhours. Studio
Usually ready in 24 hours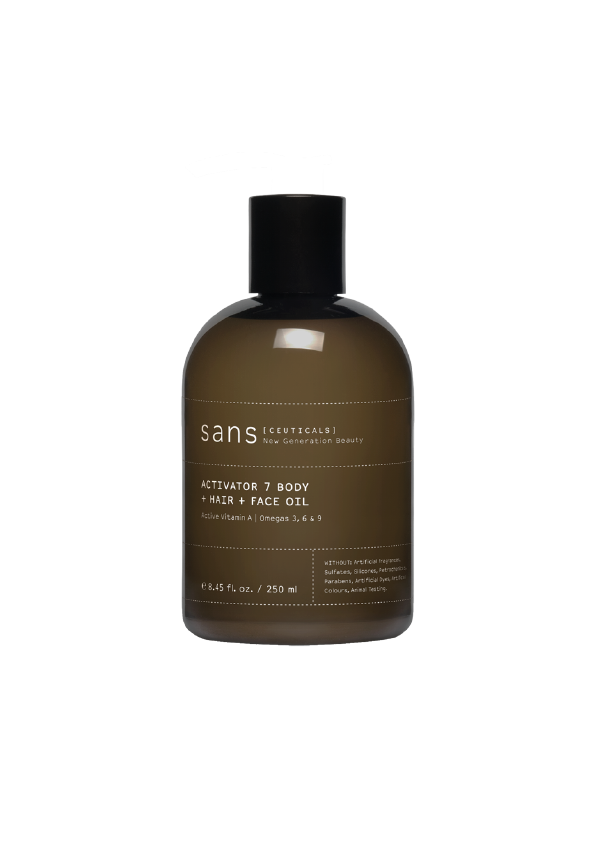 三合一身體保養油 | Activator 7 Body+Hair+Face Oil
afterhours. Studio
Pickup available, usually ready in 24 hours
afterhours.
5B, KT ONE, 158 Wai Yip Street
Kwun Tong
Kowloon Hong Kong SAR
+85295422337
[浴室必備好物] 多功能身體保養油

這是一枝身體油 + 卸妝油 + 髮尾油 + 臉部精華油 + 除毛護理油 + 孕婦妊娠油 + 按摩油。
全天然植物油,蘊含高濃度活性維生素A,每天使用可平衡及滋潤皮膚,刺激細胞修復,增加膠原蛋白的產生並增強膚色和彈性。
A potent and reparative oil containing active vitamin A to stimulate cell repair, increase collagen production and boost skin resilience, tone and elasticity. Safe for use during pregnancy. 

HIGHLY RECOMMENDED TO TREAT 
+ 妊娠紋 Stretch marks
+ 疤痕 Scars
+ 皮膚發炎 Dermatitis
+ 濕疹 Eczema
+ 皮膚乾燥 Dry skin
+ 痘印 Acne
+ 曬傷 Sun damage

RELATED ARTICLES
1. Sans [ceuticals] 三款身體乳液應該選那瓶?
2. 我的秋冬的皮膚護理程序
TIPS + MULTIFUNCTIONAL USE
[01] 身體油 Body Oil
健康潤澤的皮膚需要兩種份子:水和脂質。
在澡後皮膚濕潤的時候塗上Activator 7身體保養油,這會形成一層親水性脂膜,可以鎖緊皮膚中的內水和天然脂層,從而達到雙重營養。持續使用皮膚會越發柔軟、細滑有光澤。
For skin to look fresh, plump and healthy, it requires two types of hydration: water and lipids.To boost product performance, apply a layer of Activator 7 Oil while skin is wet. This creates a hydrolipidic film, trapping in moisture for double-duty nourishment, leaving skin soft, smooth and luminous.

[02] 卸妝油 Make-up Remover
油會使油溶解,Activator 7身體保養油成為您的高效卸妝油。使用棉墊輕輕卸掉化妝品和其他殘留物,這樣既不會改變皮膚的pH值,皮膚更會感到柔軟和滋養。
Oil dissolves oil, making Activator 7 a highly effective makeup remover. Simply wipe with a cotton pad to remove makeup and residue without stripping or altering the skin's pH. This will leave skin feeling fresh, soft and nourished.

[03] 髮尾油 Hair Serum
洗髮後擠出多餘的水分後,在頭髮中尾段塗抹2至3滴Activator 7身體保養油,以鎖住頭髮的水分和補充脂質,保持髮質柔順有彈性。
To restore and nourish hair, apply 2—3 drops to the palm of your hand and work through damp mid-lengths and ends to lock in vital moisture.

[04] 臉部精華油 Facial Serum
當我們睡覺時,就是皮膚的自我修復和潔淨時間。睡前使用Activator 7身體保養油作為睡間精華油,當中的活性成分可幫助細胞更新。取2-3滴,搽在濕潤的臉上並按摩。
While we sleep, the body undergoes cleansing and repair. This time allows cells to utilise the active ingredients in Activator 7. For a potent night serum, apply a few small drops and press into skin.

[05] 剃鬚油 Shave Oil
Activator 7身體保養油可保護和滋潤皮膚屏障,同時提供光滑貼服的剃鬚過程,減少皮膚受損的機會。
Activator 7 protects and hydrates the skin barrier while providing a sleek, close shave.

[06] 皮膚炎+濕疹治療 Dermatitis+Eczema
洗澡是治療濕疹和皮炎的最佳時機,因為水能軟化角質層,還可以去除致敏原、刺激物和乾燥。

Step ①:生物活性身體磨砂膏 Bio Active Body Exfoliant
表皮上推積的廢老角質會阻慢皮膚真皮層吸收保養品。每週使用一次生物活性身體磨砂膏去除角質、死皮細胞,恢復皮膚的吸收能力。

Step ②:Activator 7身體保養油
保養的最佳時間是剛剛洗完澡時。當皮膚仍然濕潤時,將Activator 7身體保養油塗抹在身體,面部和頸部,並重點塗在皮膚過敏的位置。成分富含藥用級植物油,可幫助傷口消炎和癒合。
Bathing is one of the most important treatments for eczema and dermatitis as water hydrates and softens the stratum corneum [the top layer of skin], allowing your moisturiser to be more thoroughly absorbed. Bathing also removes allergens, irritants and dry, built-up skin cells.

PRO TIP
+ 我們建議將Activator 7塗在濕潤的皮膚上,這可以加快吸收速度,並防止在乾燥的皮膚上塗油可能產生的油膩感。
+ 在曬太陽前使用Activator 7身體保養油,富含維生素A,可保護皮膚免受紫外光侵害,促進膠原和彈性蛋白增生,預防皮膚脫水。

HERO INGREDIENTS
維生素A Vitamin A
可加快膠原蛋白和彈性蛋白增生,均勻及控制色素沉澱。刺激皮膚修復,增強皮膚屏障。維生素A亦有效治療痤瘡,改善毛孔粗大和皮膚紋理。
Normalises cell function and enables good collagen and elastin production and pigment control. It stimulates skin repair, increases skin firmness and spurs on cell renewal. Vitamin A is also an effective acne treatment, decreasing enlarged pores and improving skin texture and tone.

維生素E Vitamin E
一種強大的抗氧化劑,亦可加強維生素A的滲透力。
Optimises penetration of vitamin A and is a powerful antioxidant.

藥用級植物油Pharmaceutical Grade Botanical Oils
角鯊烷橄欖油,草油和月見草油是最抗菌、抗真菌的親膚性植物油最佳組合。
高度抗炎,對濕疹和皮炎的治療效果極佳。 這個黃金組合可治療受損皮膚和強化皮膚屏障。
A combination of the most antifungal, antibacterial, skin-compatible oils such as squalane olive oil, meadowfoam and evening primrose oils. Highly anti-inflammatory and excellent in treating eczema and dermatitis. This unique combination acts as an environmental barrier to enable moisture retention and epidermal protection.

INGREDIENTS
角鯊烷果油,橄欖果油,荷荷巴籽油,月見草油,白芒花籽油,猴麵包樹籽油,維生素A,維生素E,香氣
Squalane [Olive] Fruit Oil,Olea Europaea [Olive] Fruit Oil,Simmondsia Chinensis [Jojoba] Seed Oil,Oenothera Biennis [Evening Primrose] Oil,Limnanthes Alba,[Meadowfoam] Seed Oil,Adansonia Digitata [Baobab] Seed Oil,Retinyl Palmitate [Vitamin A],Tocopherol [Vitamin E],Fragrance

WITHOUT 
沒有經過動物測試,人造香料,硫酸鹽,矽酮,石化產品,對羥基苯甲酸酯,PEG,鄰苯二甲酸鹽或人造色素。
Animal testing, artificial fragrances, sulfates, silicones, petrochemicals, parabens, PEGs, phthalates or artificial colours.

Safe for use during pregnancy.
孕婦皆可使用

250ml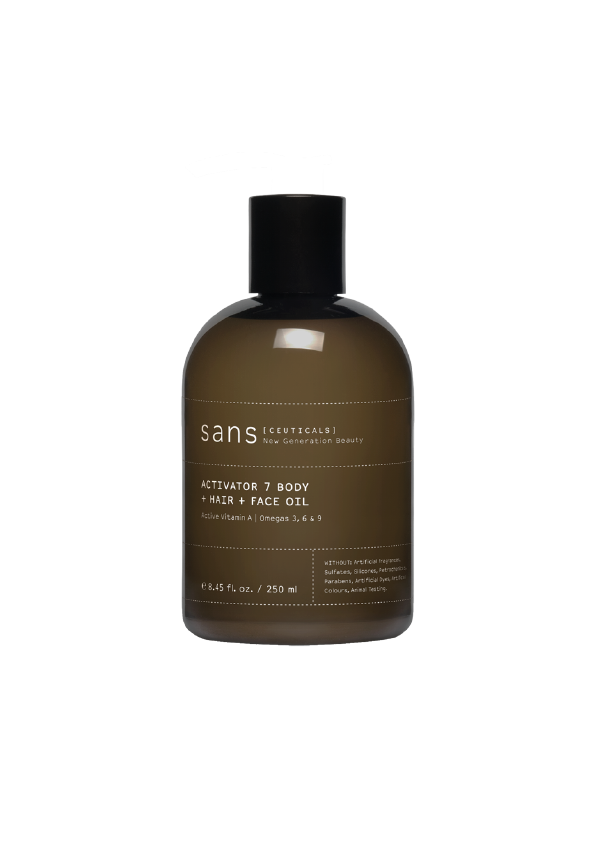 三合一身體保養油 | Activator 7 Body+Hair+Face Oil
Sale price

HK$319.00
Regular price
Choose options