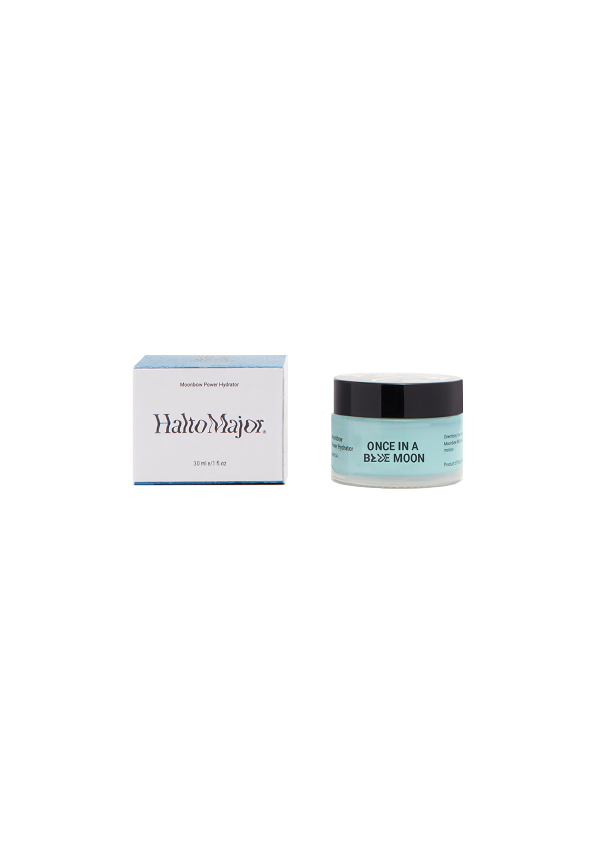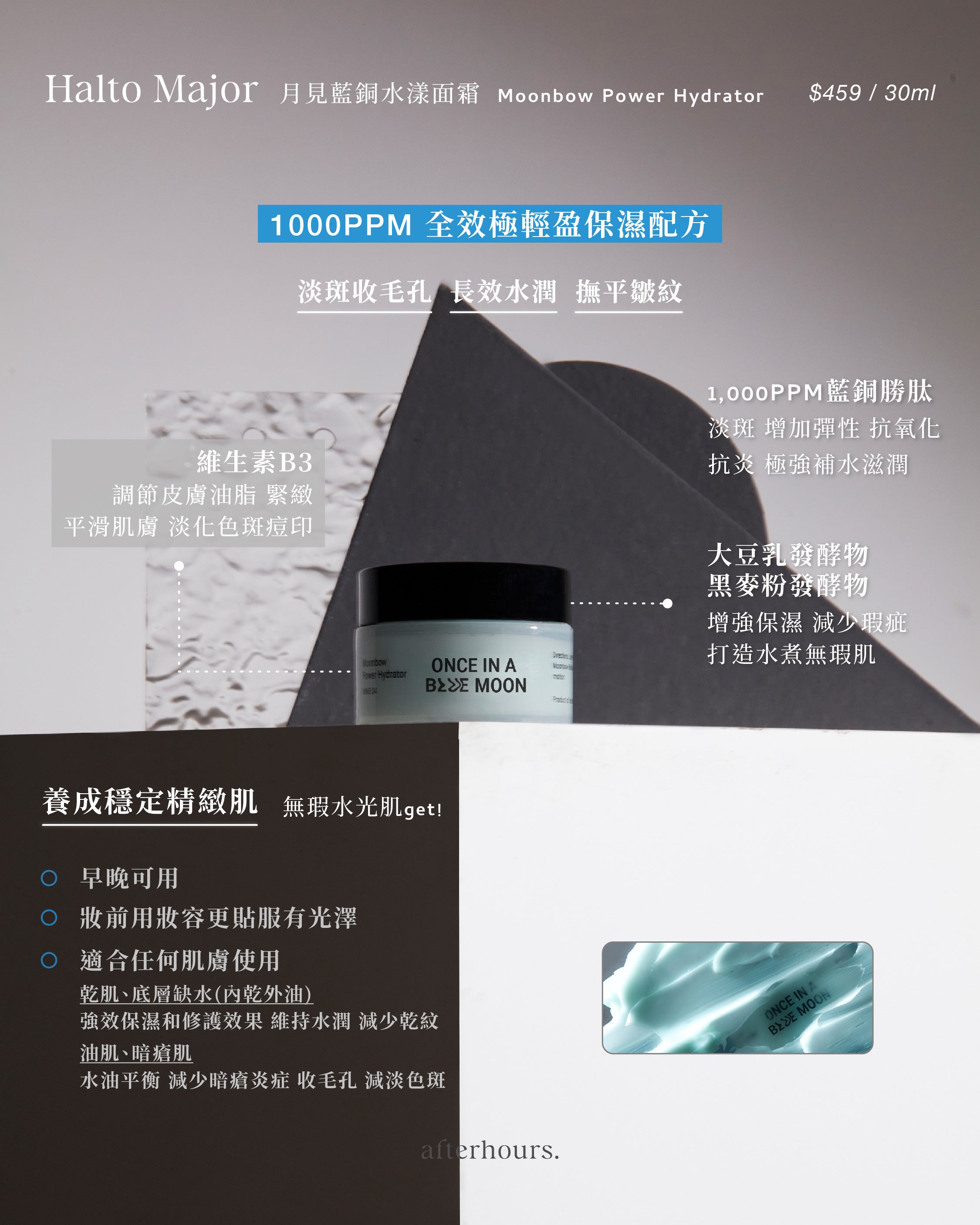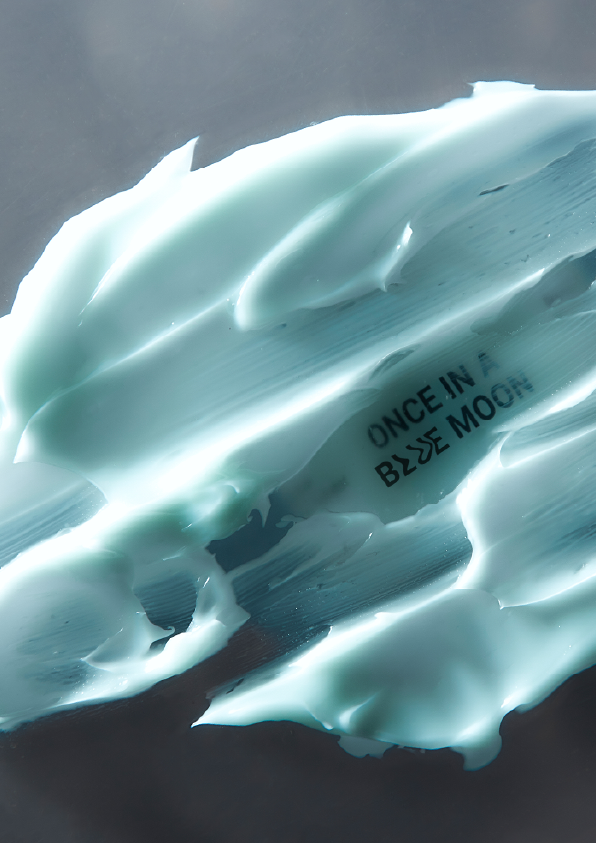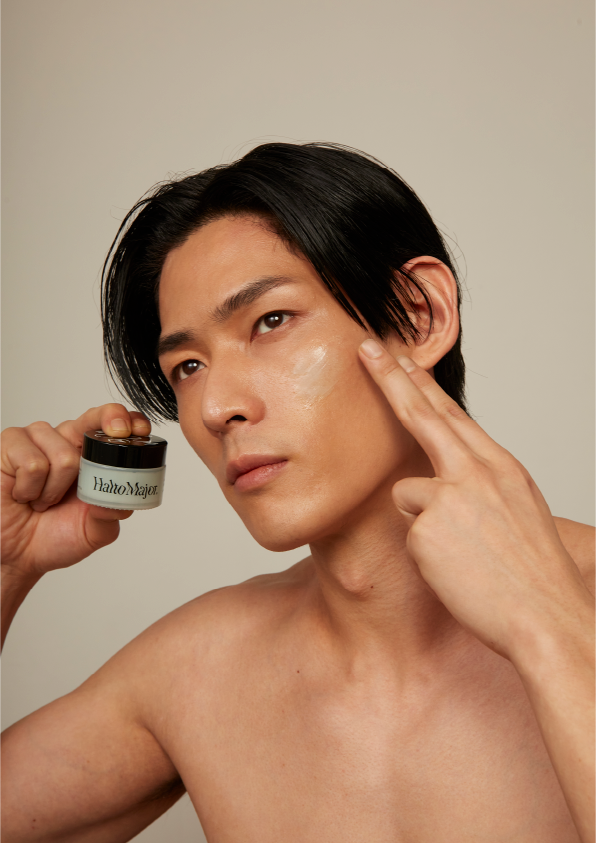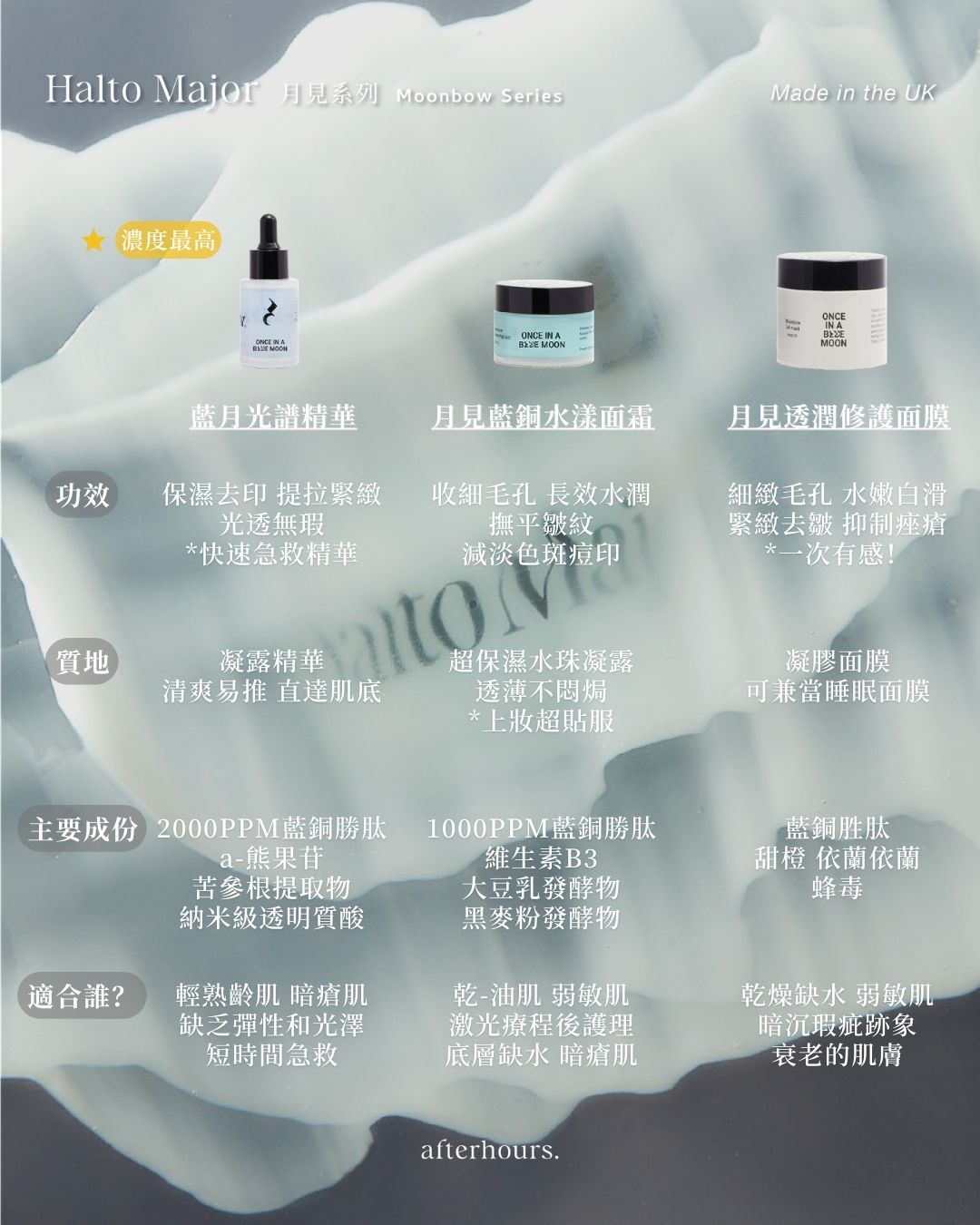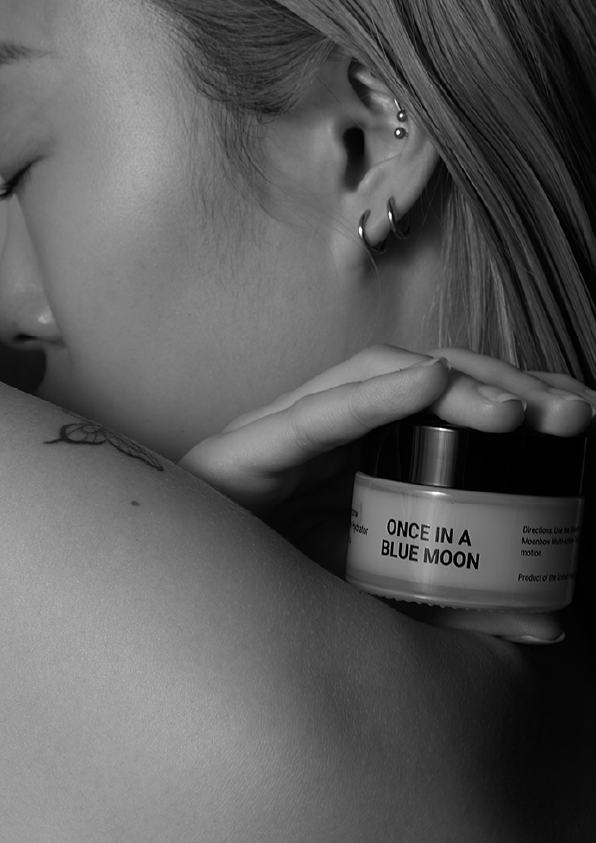 月見藍銅水漾面霜 | Moonbow Power Hydrator
Sale price

HK$459.00
Regular price
(/)
Pickup available at afterhours. Studio
Usually ready in 24 hours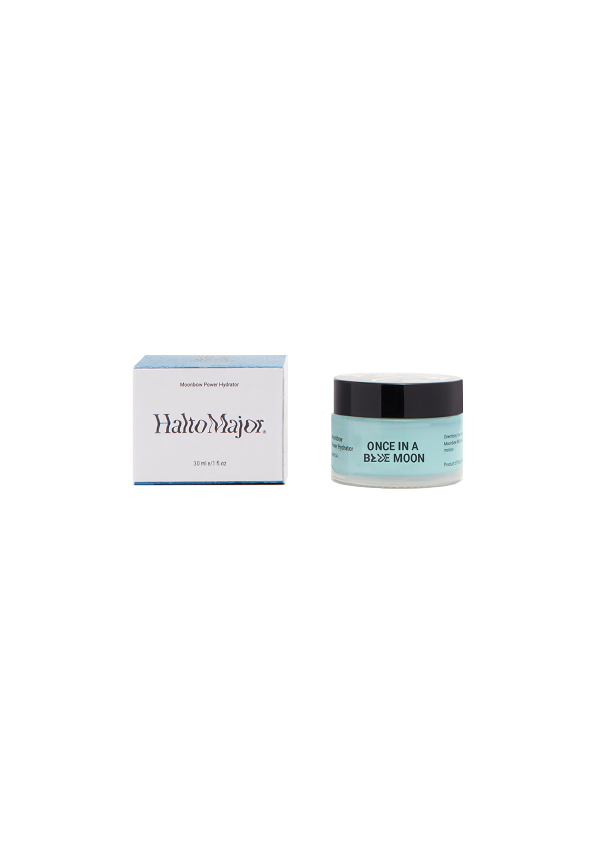 月見藍銅水漾面霜 | Moonbow Power Hydrator
afterhours. Studio
Pickup available, usually ready in 24 hours
afterhours.
5B, KT ONE, 158 Wai Yip Street
Kwun Tong
Kowloon Hong Kong SAR
+85295422337
第一批現貨已售罄;第二批將會於10月上旬寄出。
【養成穩定精緻肌】收細毛孔 + 減淡色斑 + 撫平皺紋 + 長效水潤
1,000 PPM高濃度的藍銅胜肽
可每日使用的全效極輕盈保濕配方,塗抹後面霜瞬間轉化成超保濕水珠凝露,極細分子可即時滲透,直達肌膚深層,為肌膚注滿水。妝前使用令到妝容更加貼服有光澤。
任何肌膚都會愛它
乾肌、底層缺水(內乾外油)
可提供強大保濕力和修護效果,使肌膚24小時維持水潤狀態,減少乾紋。
油肌、暗瘡肌
持續使用3-6星期,水油會得到平衡,從而減少暗瘡, 炎症形成,皮亦有明顯收毛孔、減淡色斑功效。

RELATED ARTICLES

1. 認識藍銅勝肽的好處 : 藍銅勝肽到底在紅什麼? | AH. JOURNAL 09

Drench your skin in this dreamy moisture booster boasting a heavenly-rich portion of Copper Tripeptide to guarantee extraordinary hydration with delectable freshness that lasts all day long. Heavy-duty yet lightweight, this watery hydrator glides on satin-smooth and permeates layers deep into your skin for a delightful, non-greasy finish. Hydrating to the max, this skin-plumping concoction is specially-formulated with fine-quality herbal extracts to help inject your skin with an astonishing flow of instant, continuous moisture, while effectively preventing water loss, leaving your skin soft, plump and luminous. Housing as many as 7 kinds of Vitamin B Complex and a Vitamin C derivative, this nutrient-rich workhorse revives dull skin by brightening up and evening out skin tones for a healthy translucent glow. An all-rounder to tackle multiple skin concerns, this anti-aging essential helps gracefully smooth out fine lines and wrinkles to achieve a flawless, youthful radiance.

Hero Ingredients
1,000PPM藍銅勝肽
促進傷口癒合、減少暗瘡印和色斑、增加彈性、抗氧化和抗炎、增強皮膚循環及代謝、極強補水滋潤
維生素B3
調節皮膚油脂緊緻,使皮膚平滑肌膚,減輕色素沉澱
蘆薈精華
保濕舒緩,減少皺紋生成
大豆乳發酵物和黑麥粉發酵物
增強肌膚保濕能力,減少肌膚瑕疵,打造水煮無瑕肌
  
甜橙精油、依蘭依蘭精油和苦橙精油
提升肌膚亮度和光澤度

How To Use
每天早晚塗抹於面部和頸部。在藍月光譜精華後使用以增強水合協同作用。 這款面霜可快速滲透,不會留下油膩或粘膩的表面。請存放於陰涼地方,避免被陽光直接照射。
Apply to the face and neck daily, morning and night. Use after Toner or Serum for a boost of hydration. This hydrator will penetrate quickly without leaving a greasy or sticky finish.

Ingredient
水、甘油、丁二醇、煙酰胺、蘆薈提取物、銅三肽-1 (1,000 PPM)、抗壞血酸四異棕櫚酸酯、氯化鈉、氫化橄欖油不皂化物、氫化橄欖酸乙基己酯、丙二醇、乳酸菌/豆漿發酵物、乳酸菌/黑麥粉發酵物、 芽孢桿菌/大豆發酵提取物、赤蘚糖醇、苯氧乙醇、甜橙精油、依蘭精油、1,2-己二醇、木槿果提取物、苦橙精油
Aqua, Glycerin, Butylene Glycol, Niacinamide, Aloe Vera Extract, Copper Tripeptide-1 (1,000 PPM), Ascorbyl Tetraisopalmitate, Sodium Cloride, Hydrogenated Olive Oil Unsaponifiables, Hydrogenated Ethylhexyl Olivate, Propanediol, Lactobacillus/Soymilk Ferment, Lactobacillus/Rye Flour Ferment, Bacillus/Soybean Ferment Extract, Erythritol, Phenoxyethanol, Sweet Orange Essential Oil, Ylang-Yang Essential Oil, 1,2- Hexanediol, Hibiscus Sabdariffa Fruit Extract, Bitter Orange Essential Oil.

Expiration Date 1 year

Product of United Kingdom
30ml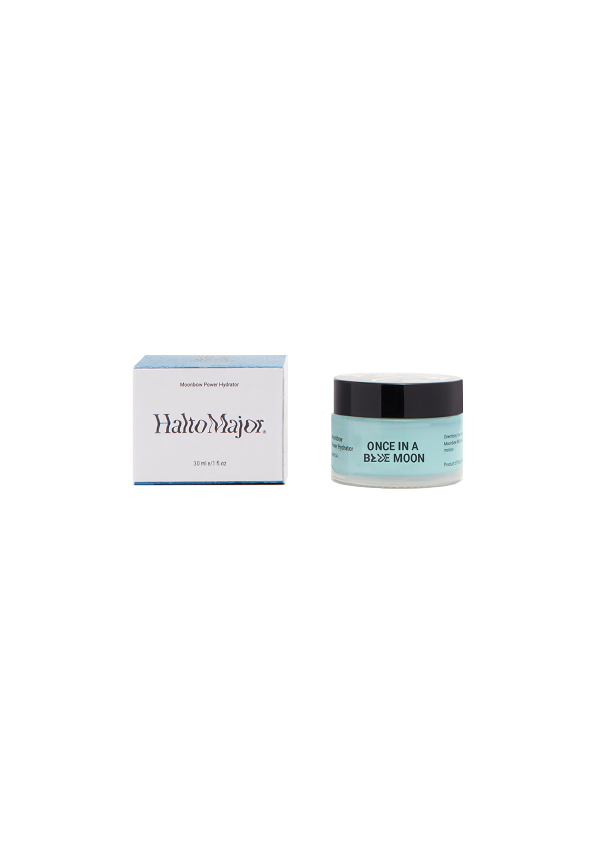 月見藍銅水漾面霜 | Moonbow Power Hydrator
Sale price

HK$459.00
Regular price
Choose options