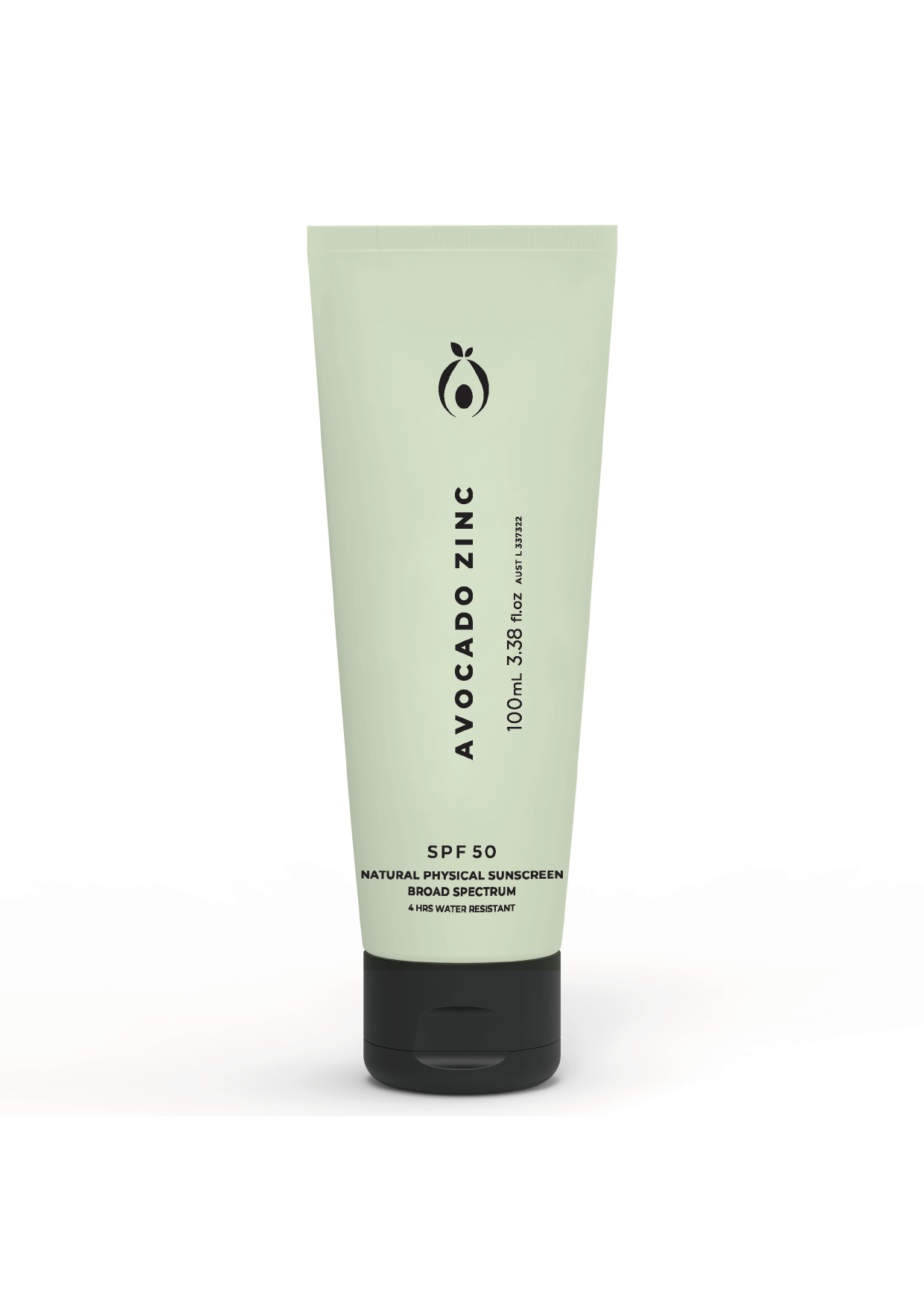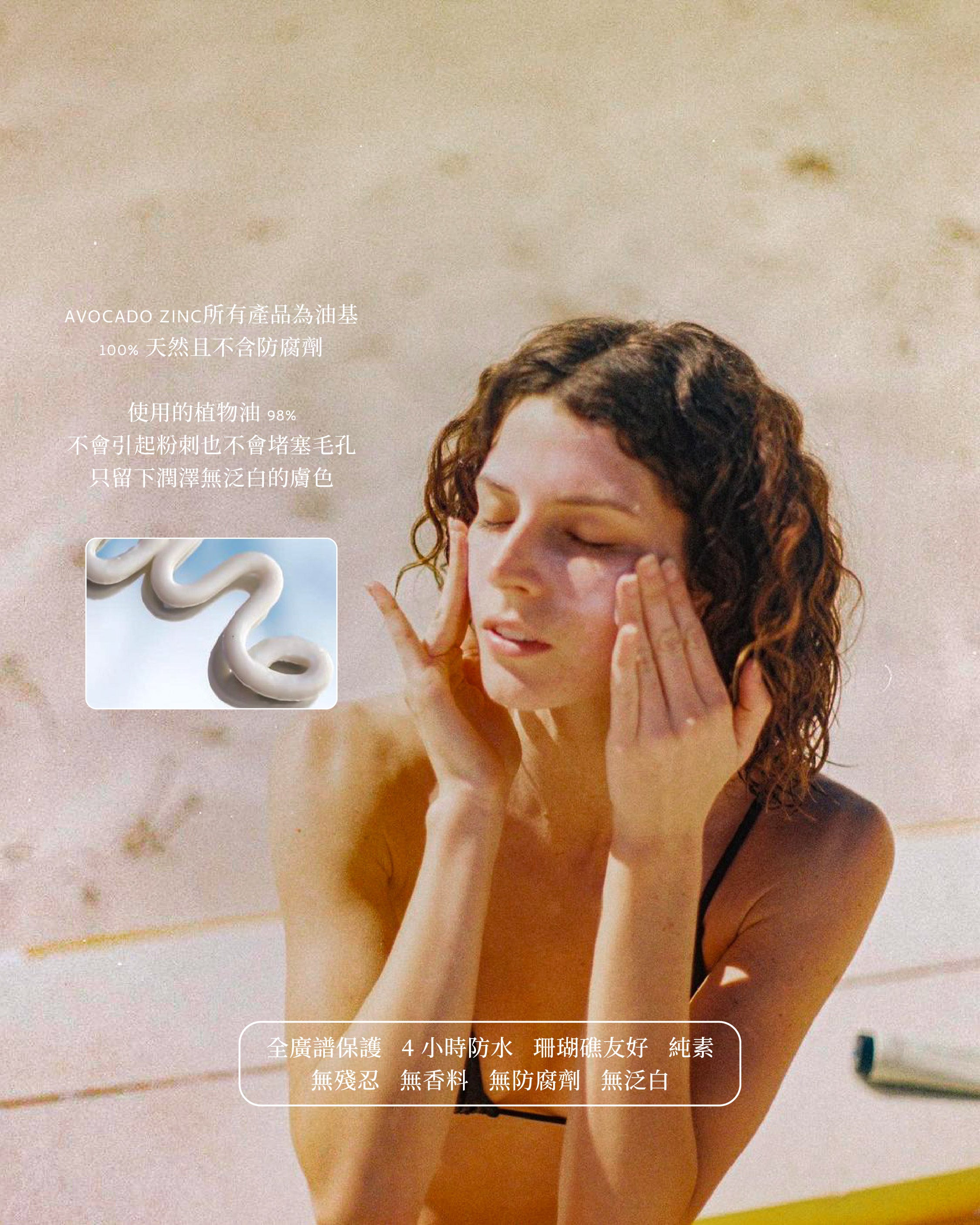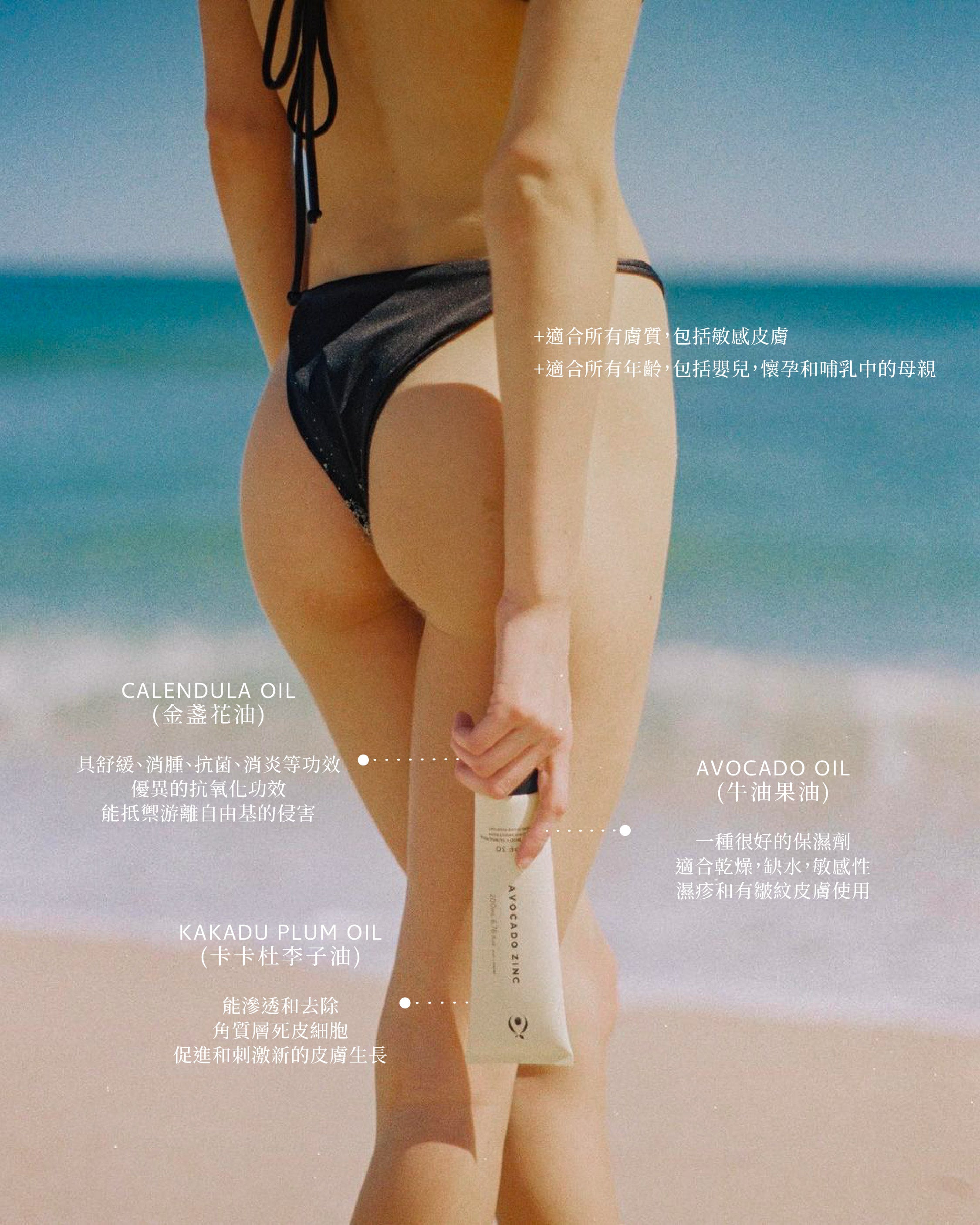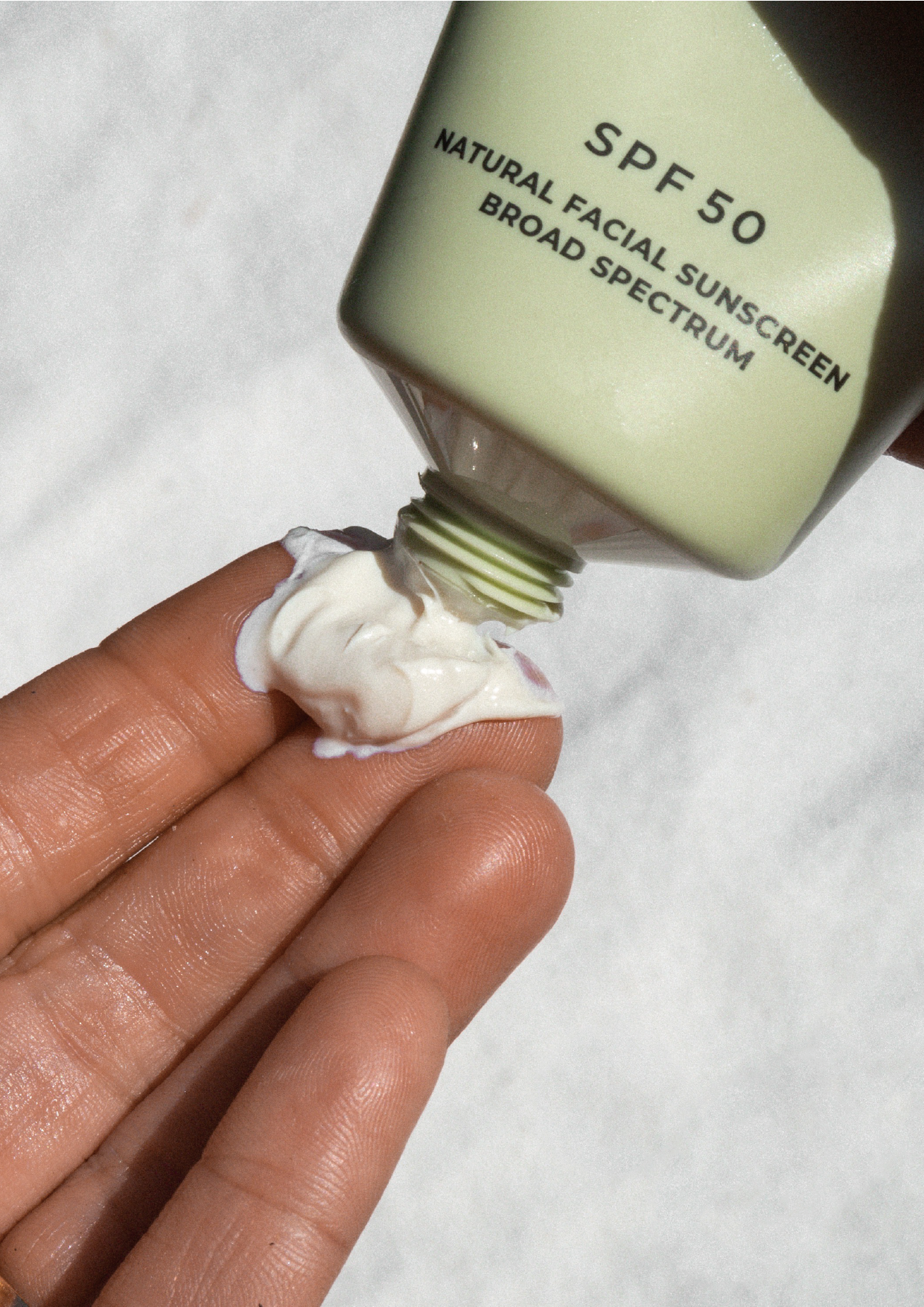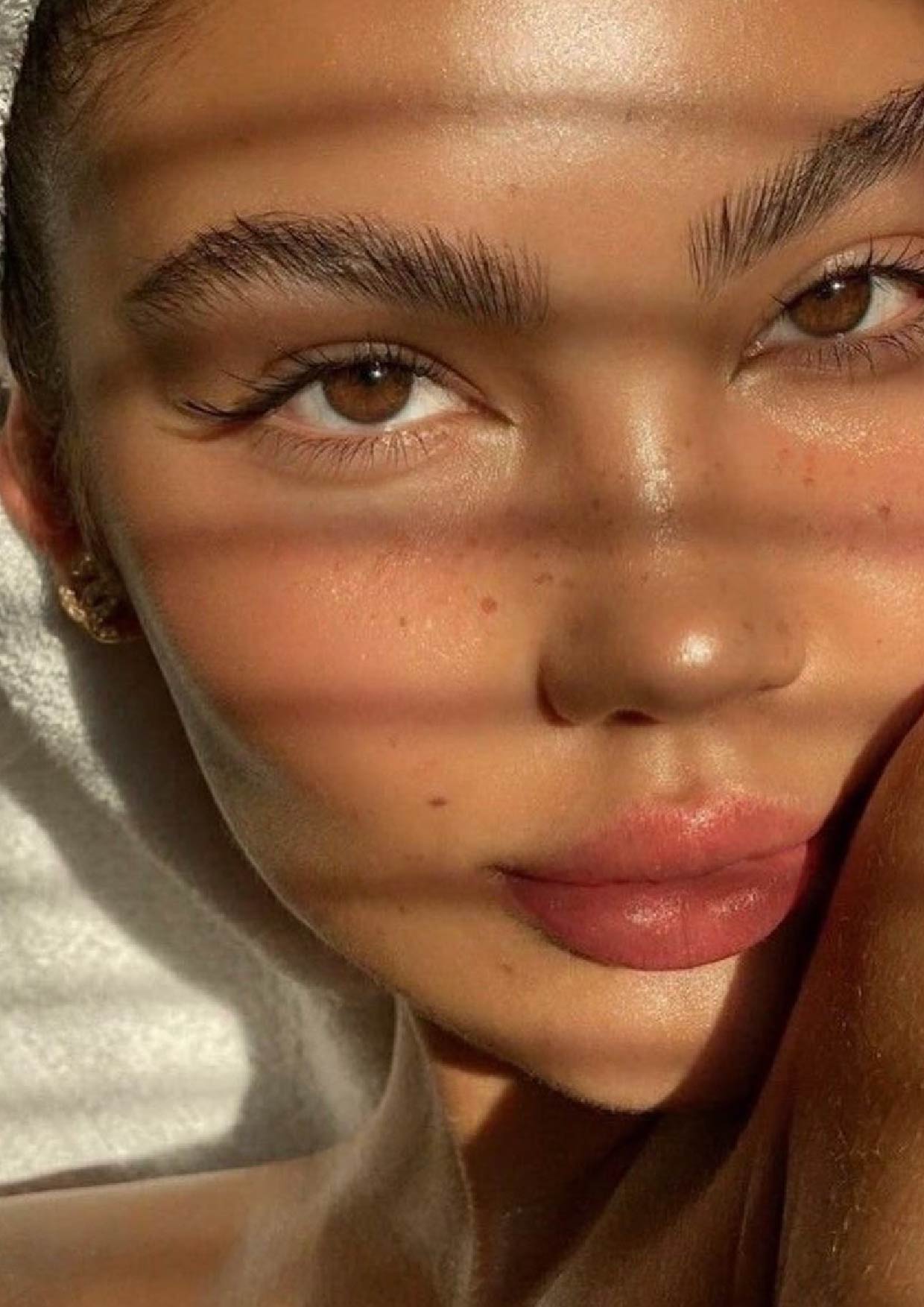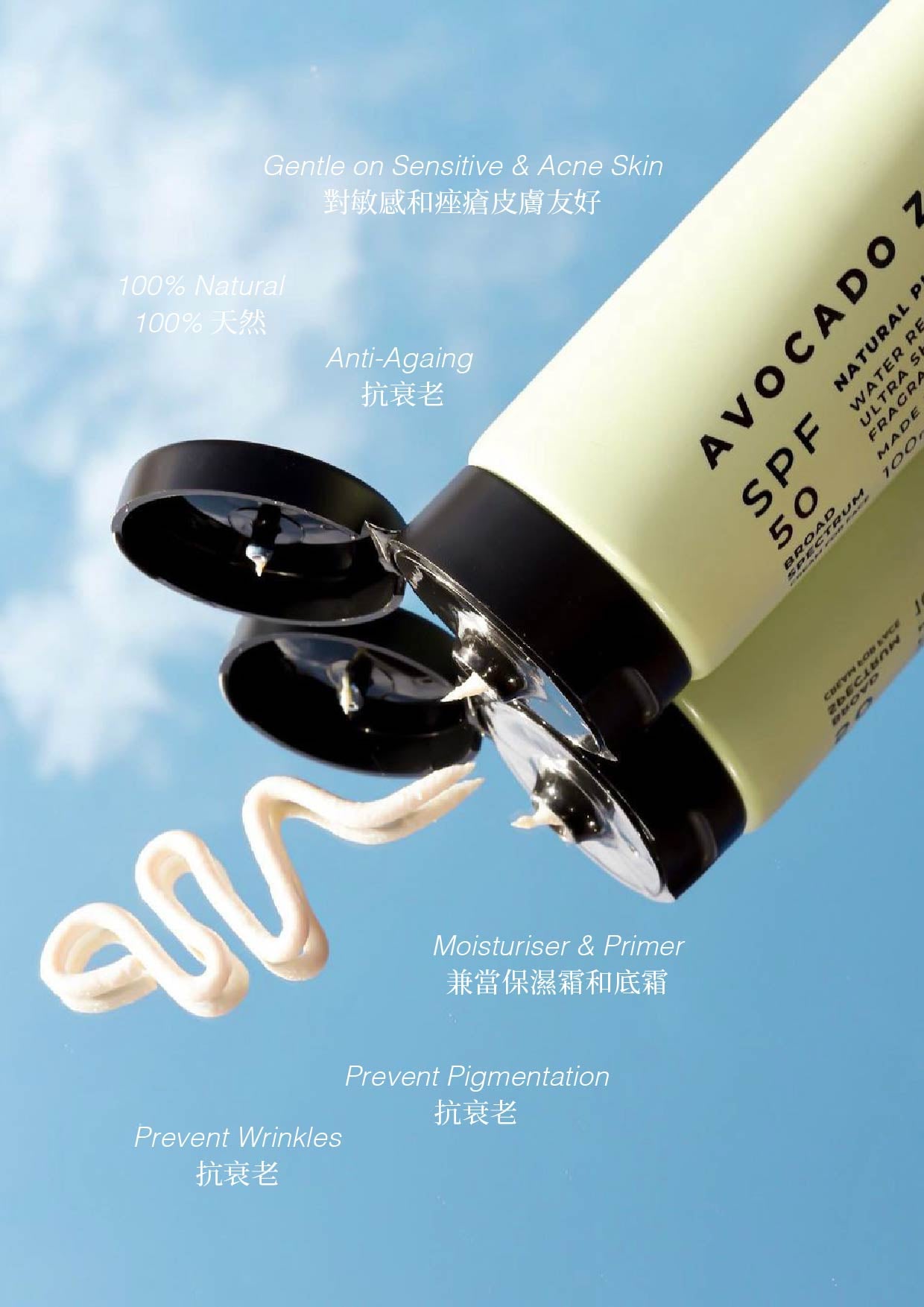 SPF50 全天然臉部防曬霜|Physical Sunscreen (100ml)
Sale price

HK$279.00
Regular price
(/)
Pickup available at afterhours. Studio
Usually ready in 24 hours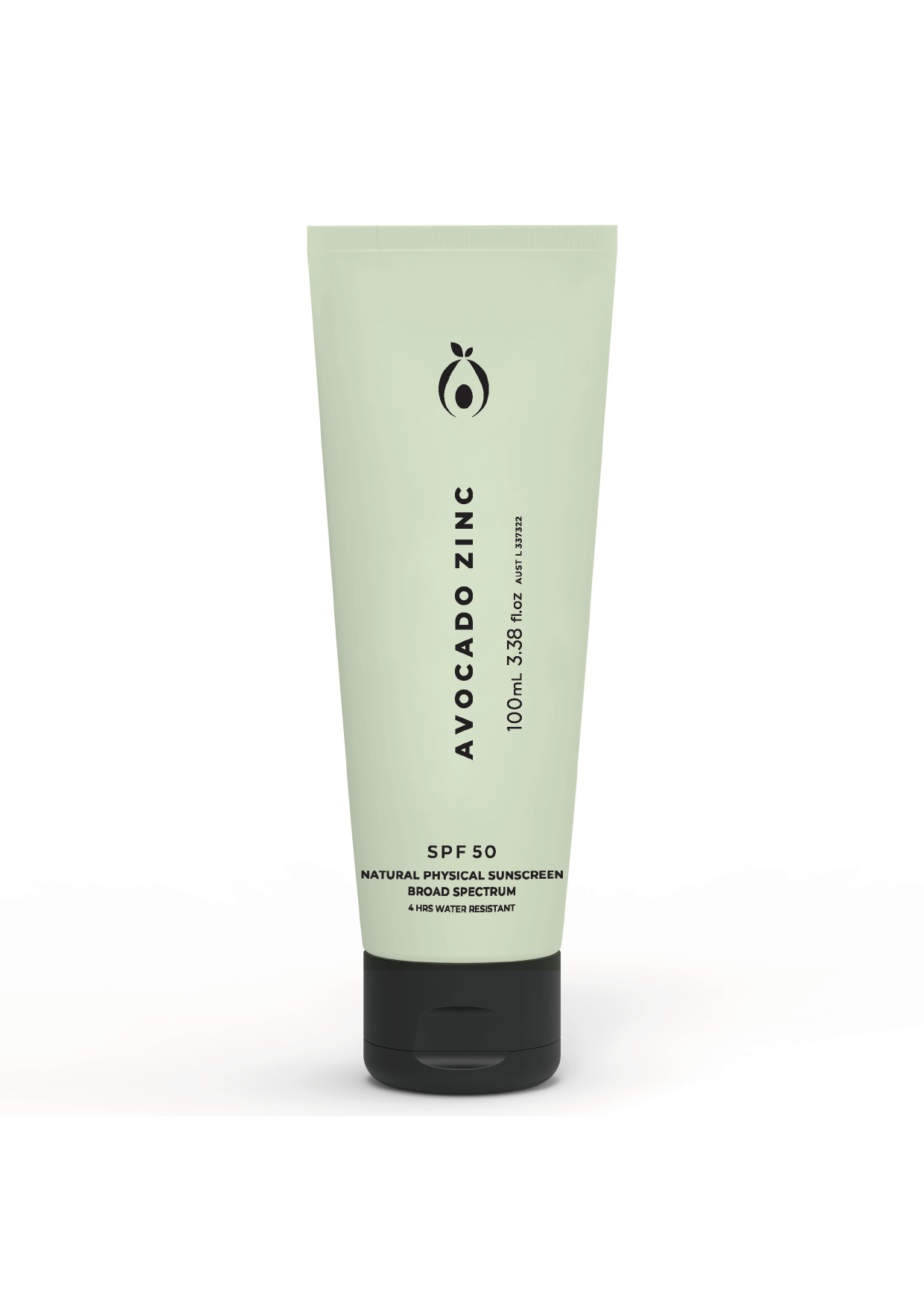 SPF50 全天然臉部防曬霜|Physical Sunscreen (100ml)
afterhours. Studio
Pickup available, usually ready in 24 hours
afterhours.
5B, KT ONE, 158 Wai Yip Street
Kwun Tong
Kowloon Hong Kong SAR
+85295422337
全廣譜保護|4 小時防水|珊瑚礁友好|純素|無殘忍|無香料|無防腐劑|無泛白

一種天然純素的物理保濕防曬霜,質地透薄且易於推開而不泛白。專為面部配製,質地透明、透薄,專為面部、頸部和肩部日常使用設計,它甚至是化妝的完美底霜!配方僅使用非納米氧化鋅,安全無害地保護皮膚免受 UVA 和 UVB 侵害。

+適合所有膚質,包括敏感皮膚
+適合所有年齡,包括嬰兒(0 個月以上)以及懷孕和哺乳中的母親

新配方加入了可促進皮膚健康的特殊天然混合物,包括鱷梨油、椰子油、維生素 E、金盞花油和卡卡杜李子油。可舒緩和滋潤皮膚,同時不會加重皮膚負擔或變得油膩,更具抗衰老功效。
**配方為臉部而設,亦同時可以使用在身體上。

Benefit Ingredients
鱷梨油
一種很好的保濕劑。適合乾燥,缺水,敏感性,濕疹和有皺紋皮膚使用。
椰子油
抗菌、抗真菌,軟化皮膚角質層
維生素 E
強大的抗氧化劑
金盞花油
具有舒緩、消腫、抗菌、消炎等功效,亦有優異的抗氧化功效,能抵禦游離自由基的侵害。
卡卡杜李子油
能滲透和去除角質層死皮細胞, 同時促進和刺激新的皮膚生長。

*Avocado Zinc所有產品為油基,100% 天然且不含防腐劑。使用的植物油 98% 不會引起粉刺,也不會堵塞毛孔,只留下潤澤無泛白的膚色。

不含麩質和堅果
不含化學吸收劑或矽膠
包裝採用100%可回收的環保PCR管

SPF 50 Natural Physical Sunscreen is a moisturising natural vegan sunscreen that rubs in clear and is suitable for those with sensitive skin, pregnant & breastfeeding mothers, babies and the entire family.

This product is specially formulated for the face and provides full broad spectrum protection, 4 hours water resistance, is reef friendly, vegan, cruelty free, fragrance free, preservative free, deeply moisturising, this natural physical sunscreen from Avocado Zinc uses non-nano zinc oxide to safely protect the skin from UVA and UVB rays.Avocado Zinc rubs in clear, goes on sheer and is designed for everyday use on the face, neck and shoulders - it even makes the perfect base for make-up!

Our new formula contains a special blend of skin boosting ingredients including Avocado Oil, Coconut Oil, Vitamin E, Calendula Oil and Kakadu Plum Oil, to soothe & moisturise the skin without weighing it down or leaving it oily. This natural sunscreen boasts a range of anti-ageing skin benefits. Gluten free and nut free with no chemical absorbers or silicone, this product comes in eco-friendly PCR tubes that are 100% recyclable.

*All of our products are oil-based in order to be 100% natural and preservative free. The plant oils used are 98% non-comedogenic & do not block pores. Our formulas quickly absorb into the skin, leaving a dewy moisturised complexion.*

To Use
在暴露於陽光至少20 分鐘前,將1/2茶匙的防曬霜分鐘均勻塗抹在面部。 防曬霜防水4小時,請在游泳、用毛巾擦拭或鍛煉後補搽。

儲存於攝氏30度以下。用作日常面部防曬霜和保濕霜。避免直接接觸眼睛,皮膚如感到刺激,請停止使用。

Apply a 1/2 tsp to the face & neck at least 20 minutes before sun exposure. Reapply frequently and especially after swimming, towelling or exercising. Avoid direct contact with eyes. If irritation develops discontinue use. Avoid prolonged exposure to sun. When exposed to sun, wear protective clothing, sunglasses and a hat. Store below 30 C. Use as an everyday facial sunscreen, moisturiser and primer. For expiration date, please see crimp of tube.

Ingredients
非納米氧化鋅(22.75%)
中鏈甘油三酯、蓖麻油、小燭樹蠟、椰油辛酸酯、椰子油、Polyglyceryl-3 polyricinoleate、鱷梨油、維生素 E(d-α 生育酚乙酸酯)、金盞花油、卡卡杜梅油(Terminalia ferdinandiana)、異硬脂酸 酸。

Non-Nano Zinc Oxide 227.5 mg/g (22.75%)
Medium chain triglyceride, Castor oil,  Candelilla wax, Coco-caprylate, Coconut Oil, Polyglyceryl-3 polyricinoleate, Avocado oil, Vitamin E (d-alpha tocopheryl acetate),  Calendula Oil, Kakadu plum oil (Terminalia ferdinandiana), Isostearic acid.

Made locally in Perth Western Australia
Shelf Life: 3-years(有效期請參考包裝)

100ml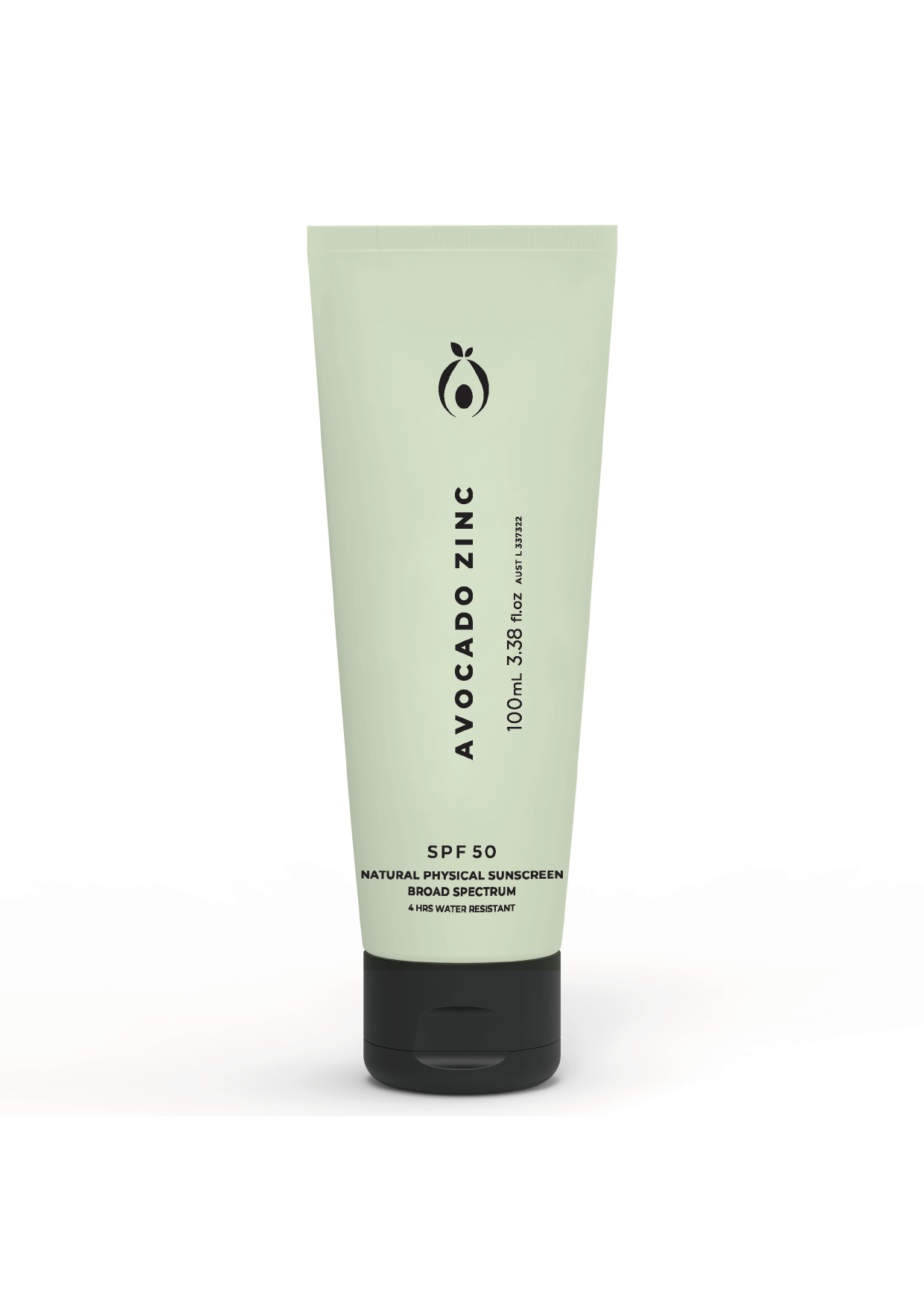 SPF50 全天然臉部防曬霜|Physical Sunscreen (100ml)
Sale price

HK$279.00
Regular price
Choose options