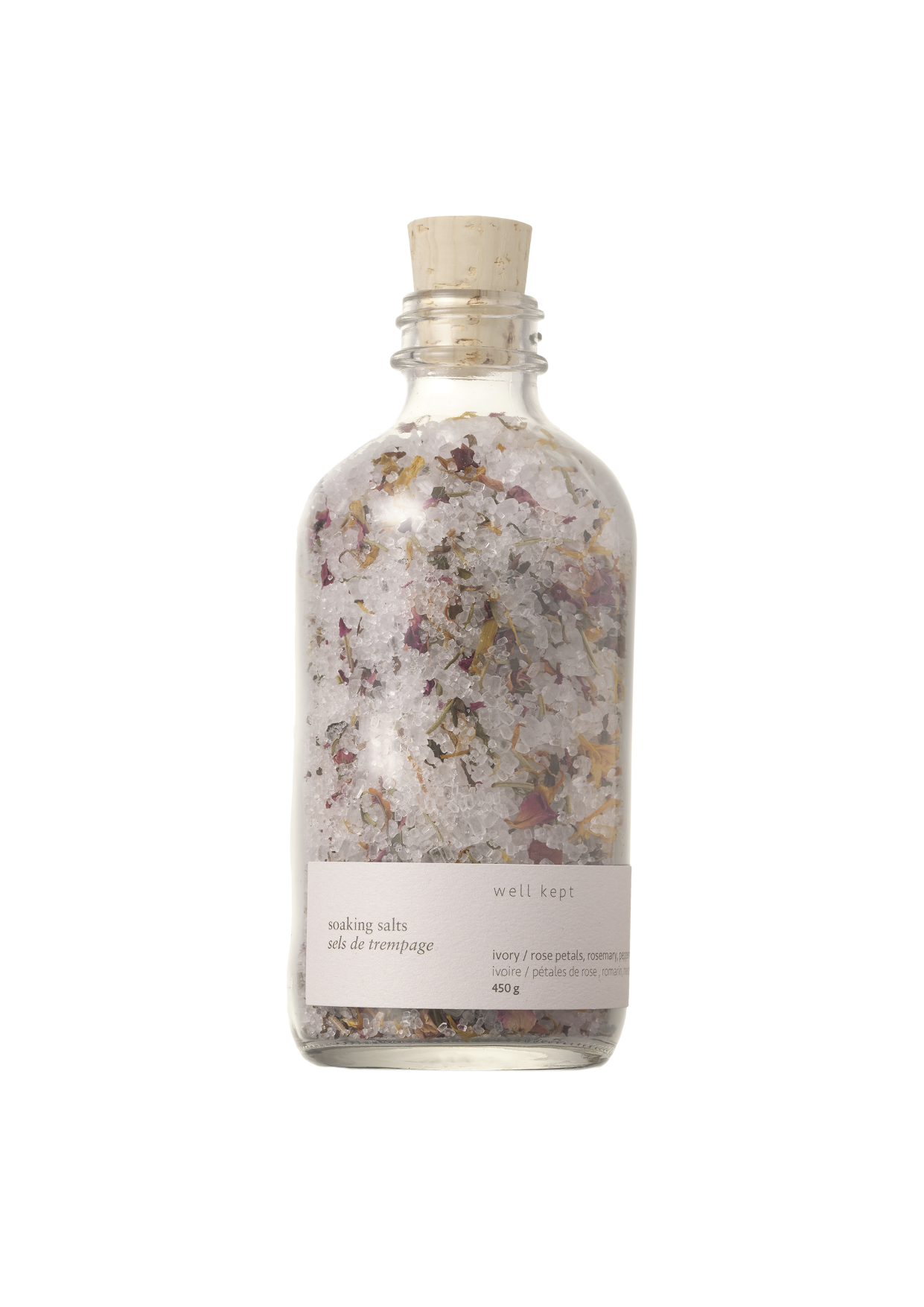 沉寂瀉鹽浴 | Ivory soaking salts
Sale price

HK$269.00
Regular price
(/)
Pickup available at afterhours. Studio
Usually ready in 24 hours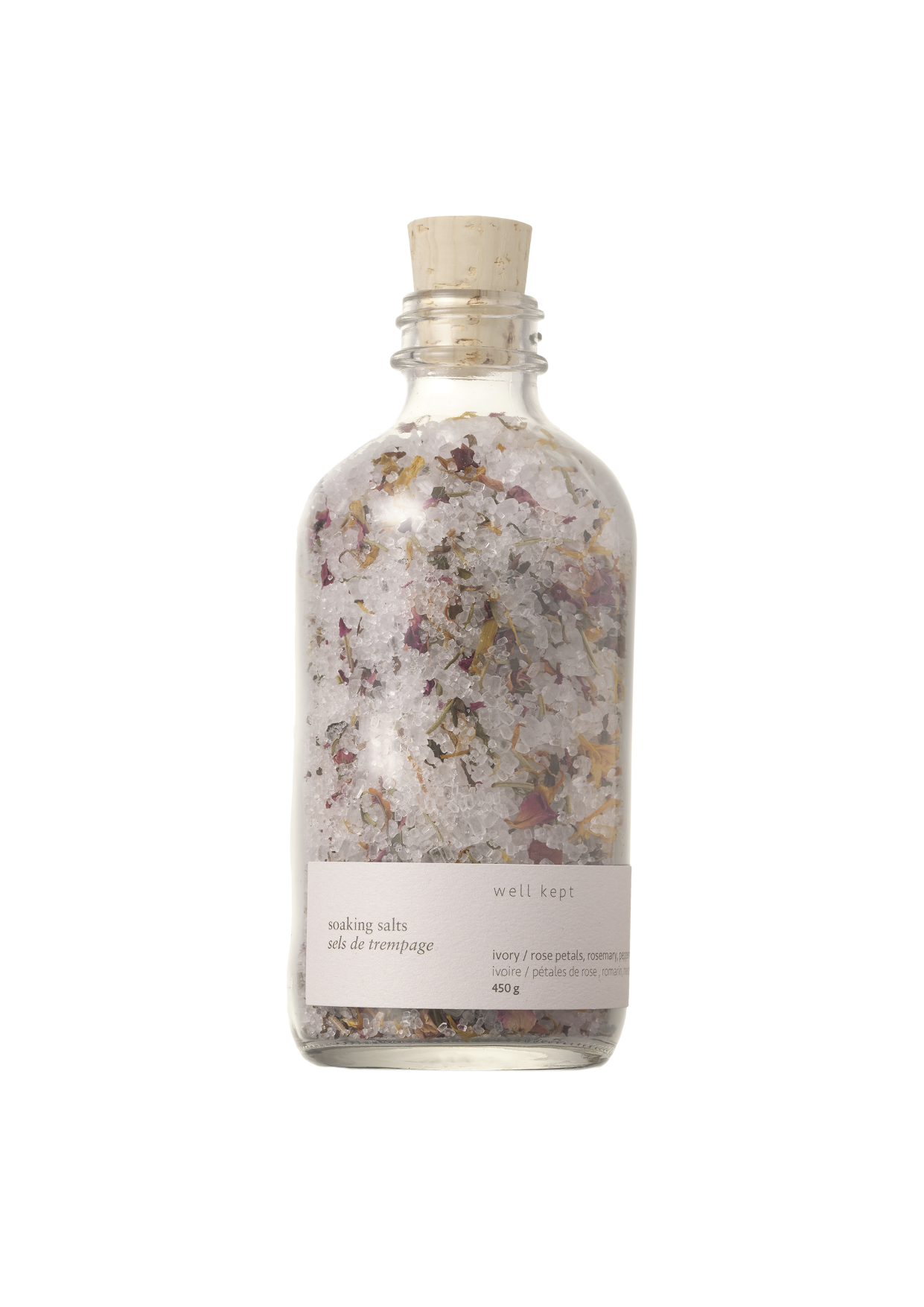 沉寂瀉鹽浴 | Ivory soaking salts
450gr
afterhours. Studio
Pickup available, usually ready in 24 hours
afterhours.
5B, KT ONE, 158 Wai Yip Street
Kwun Tong
Kowloon Hong Kong SAR
+85295422337
「沉浸在恢復時刻,我們的浴鹽為你卸下一切壓力和煩惱。」
瀉鹽浴是鎂的有效來源,可以幫助入睡紓緩焦慮,釋放壓力。
迷迭香:可提神醒腦、幫助記憶、保護呼吸道以及舒緩肌肉。
薄荷:對神經保持鎮定,克服疲勞和頭痛特別有效,加入沐浴中泡澡幫助放鬆。
萬壽菊:柑橘調的花香,可幫助澄清思緒和控制情緒。
玫瑰果:皮膚界的天然保養聖品,幫助肌膚回春,保存水份、提亮膚色、預防或淡化色斑。

Sink deep into a moment of restoration with our soaking salts. An epsom salt soak is an effective source of magnesium which promotes sleep and reduces stress, while peppermint and marigold help calm inflammation, soothe sore muscles, and reduce aches and pains.

How to use
將一半到一杯的浴鹽撒在浴缸中,攪動直至浴鹽融化與水混合。花香輕輕地漂浮在水面上,散發出淡淡的香氣。如果您不想讓它們固著浴缸,可以將浴鹽倒入茶包中,享受同樣的氣味和功效。

Sprinkle half to one cup of salts into your bath and swirl the water around until they dissolve. The herbs will gently float on the surface of the water but if you'd rather keep them out of your tub, you can pour the salts into a tea bag and enjoy the same benefits.

Made with, made without
不含對羥基苯甲酸酯、有害化學成分和合成香料。每種成分都經過精心挑選,而且具有治療和有益身心特性。

Our vegan all-natural bath milks are free of parabens, harmful chemical ingredients, and synthetic fragrances. Each ingredient is intentionally chosen for its healing and beneficial properties.

Packaging
玻璃瓶可重複使用或回收
白色標籤由 FSC 認證的紙張製成,由30% 的再生廢物製成。
軟木塞是可生物降解的,只需將其放入堆肥中即可。

Comes in a glass bottle that can be reused or recycled. The white labels on the bottles are made from FSC-certified paper made from 30% post-consumer waste content. The cork stopper is biodegradable—just pop it in your compost

Ethical Production
溫哥華工作室手工製作
無動物測試
Made by hand in our Vancouver studio
No animals test


Ingredients
瀉鹽、迷迭香、萬壽菊、玫瑰果、玫瑰花瓣、薄荷、薄荷精油
Epsom salts, Rosemary, Marigold, Rosehip, Rose petals, Peppermint, Peppermint Essential Oil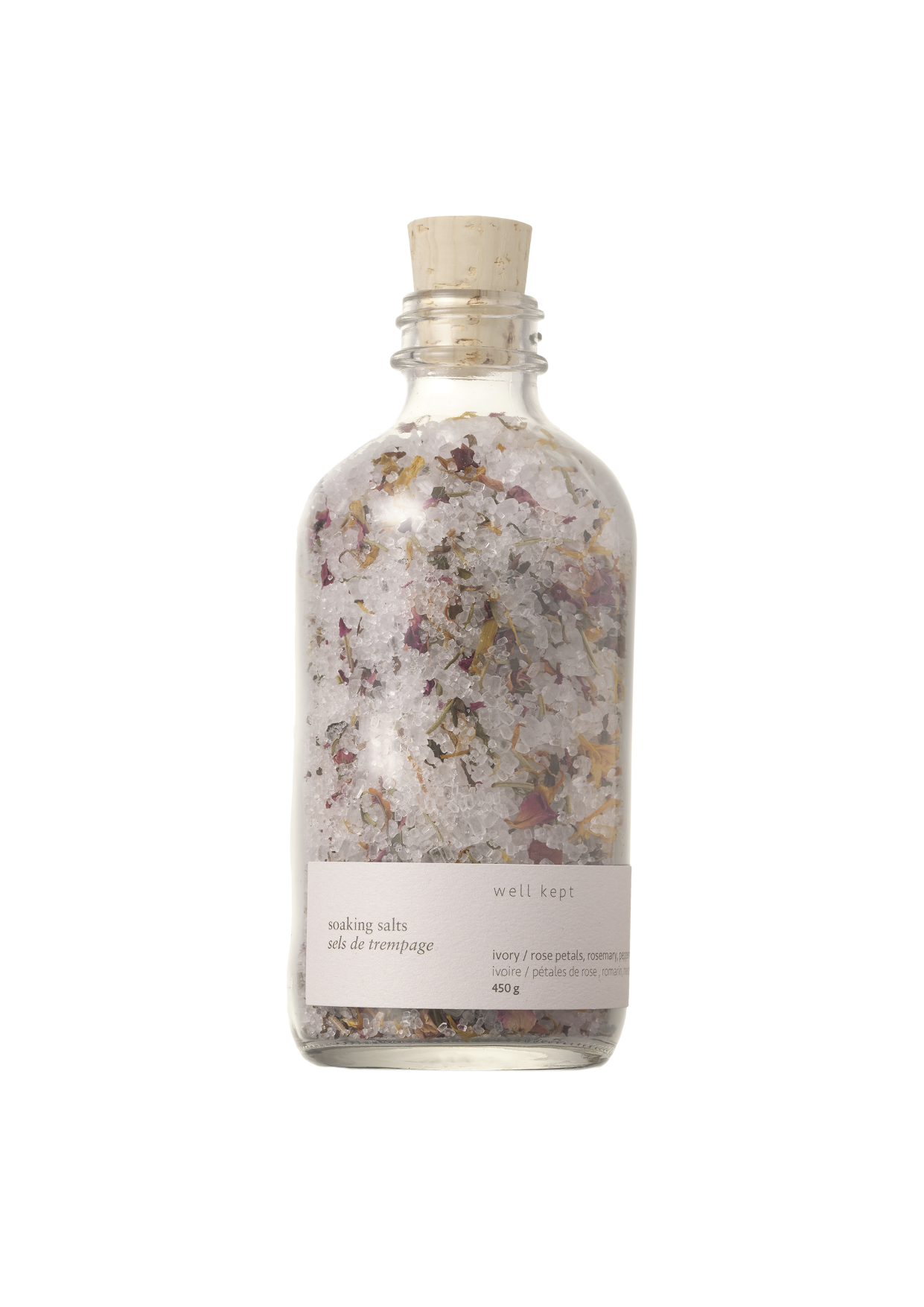 沉寂瀉鹽浴 | Ivory soaking salts
Sale price

HK$269.00
Regular price
Choose options