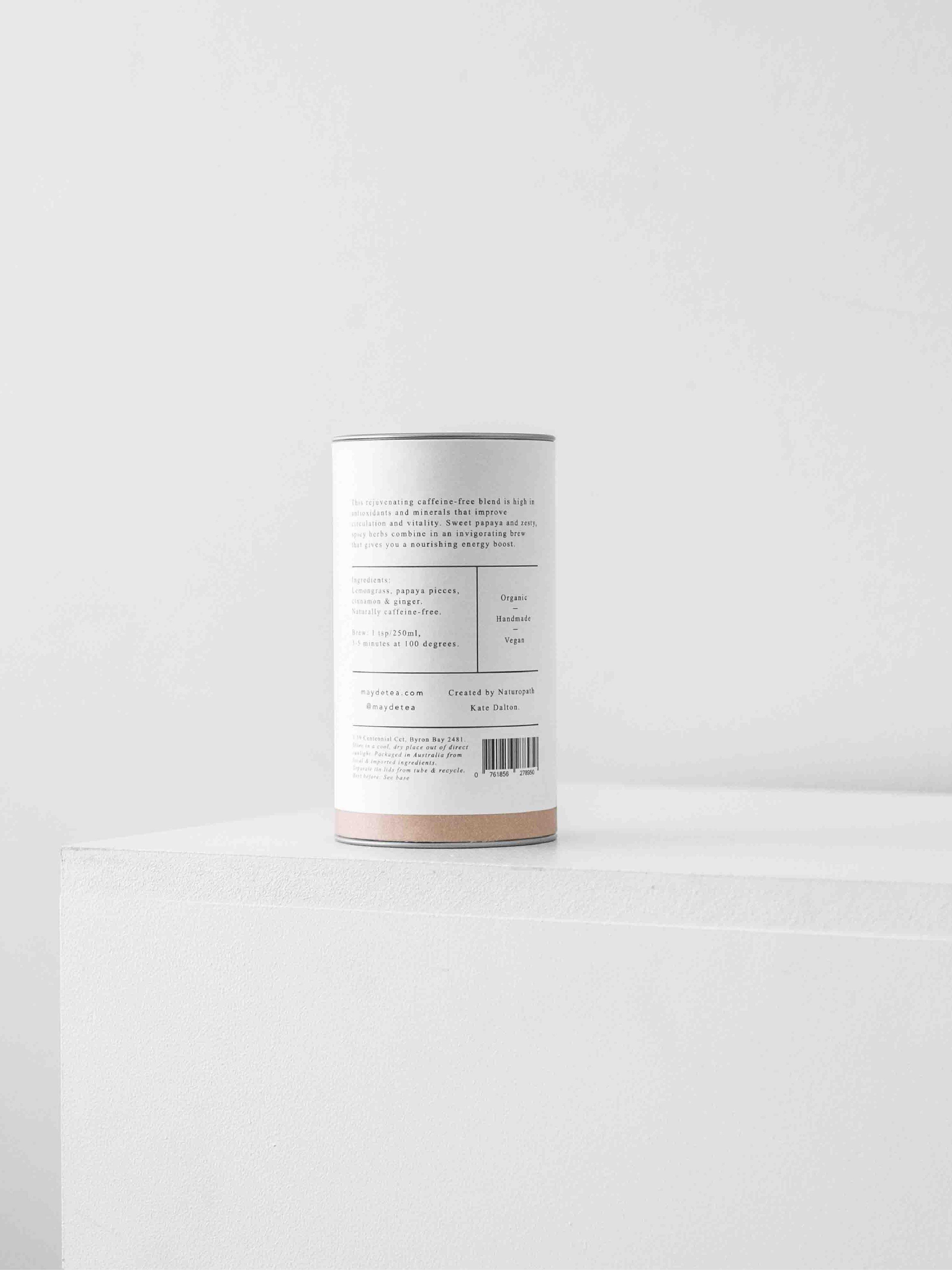 無咖啡因能量茶 | Energise Tea
Sale price

HK$89.00
Regular price
(/)
Pickup available at afterhours. Studio
Usually ready in 24 hours
afterhours. Studio
Pickup available, usually ready in 24 hours
afterhours.
5B, KT ONE, 158 Wai Yip Street
Kwun Tong
Kowloon Hong Kong SAR
+85295422337
"Energise最近成為了我的最愛混合茶 — 木瓜和適量的薑使它變得如此美味。 我已經將下午的咖啡換成這種能量茶,感覺已經好多了。" – Stephanie, Mayde Tea Customer
這種不含咖啡因的活力混合物,富含抗氧化劑和礦物質,木瓜和辛辣的香草組合為身體提供能量和活力。
Energise是一款令你不需要咖啡因也能充滿活力的一款茶
+特別適合咖啡因過敏/不喝咖啡但需能量的您。
THERAPEUTIC BENEFITS & FLAVOUR
Lemongrass 香茅
香茅提供身體清爽的能量,已知可以緩解胃痙攣,減少腹脹和腸胃氣脹。檸檬香茅富含抗氧化劑,可以保護細胞免受氧化而引起損害。
It has a cooling energy, and has been known to assist with stomach cramps and spasms, plus reduce bloating and flatulence. It's also commonly used to improve production of energy. Lemongrass is high in antioxidants. Antioxidants are commonly known to protect cells from damage caused by oxidation.
木瓜 Papaya
木瓜是葉酸、維生素C、A、E的主要來源。它還含有鈣,鐵,核黃素,硫胺素和菸酸。木瓜富含抗氧化劑,營養成分黃酮和胡蘿蔔素。
It is an excellent source of folate and vitamins C, A and E. It also contains calcium, iron, riboflavin, thiamin and niacin. Papaya is very rich in the antioxidant nutrients flavonoids and carotenes.
生薑Ginger
生薑被認為是促進消化系統的補品。它一直被用來緩解腸胃抽筋、脹氣和噁心。生薑已被證實可以幫助孕婦預防暈車和孕吐;它可以幫助人體排毒,並通過身體輸送氧氣以提高身體力量。 
It is considered a stimulating tonic for the digestive system. It has been used for relief from cramping, gas and nausea throughout history. Ginger has been indicated as an aid for motion sickness and morning sickness in pregnancy for hundreds of years. Ginger can help to detoxify the body from toxins, and stimulates oxygen transport through the body to improve energy.
肉桂 Cinnamon
肉桂可幫助平衡血糖和温暖消化道以幫助消化;它亦具有抗菌、抗真菌和抗病毒作用,被認為​​是全身補品。 
It is known to assist in balancing blood sugar levels and warming the digestive tract for improved digestion. The volatile oils in cinnamon are antibacterial, antifungal, and antiviral. Cinnamon is considered to be an overall body tonic.
BREWING INSTRUCTIONS
將1茶匙的浸茶泡在250毫升/100度的熱水3-5分鐘。
1 tsp / 250ml, 3-5 minutes at 100 degrees.
INGREDIENTS
檸檬草,木瓜片,生薑,肉桂
Lemongrass, Papaya pieces, Ginger, Cinnamon
40 serves (tube)
無咖啡因能量茶 | Energise Tea
Sale price

HK$89.00
Regular price
Choose options