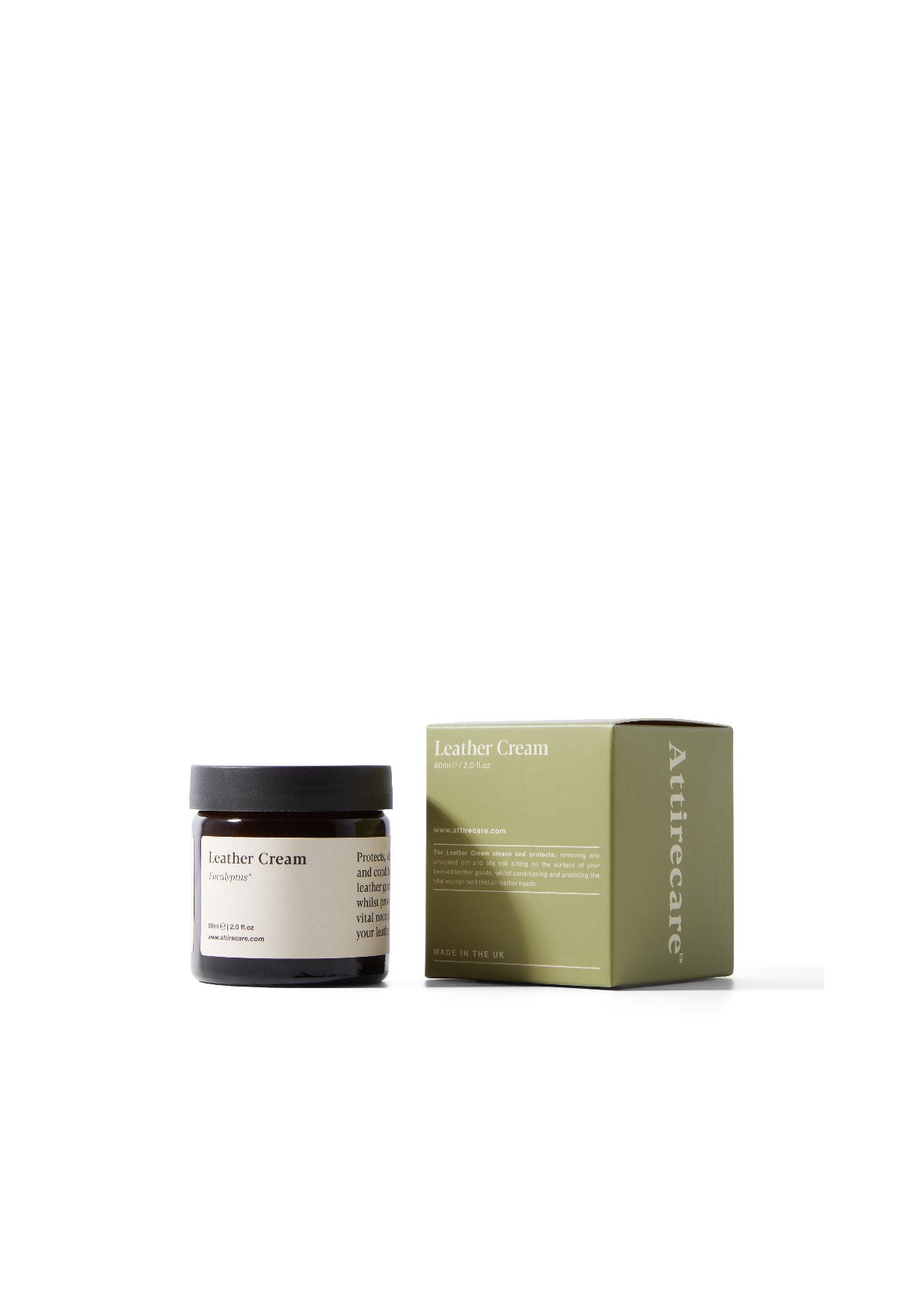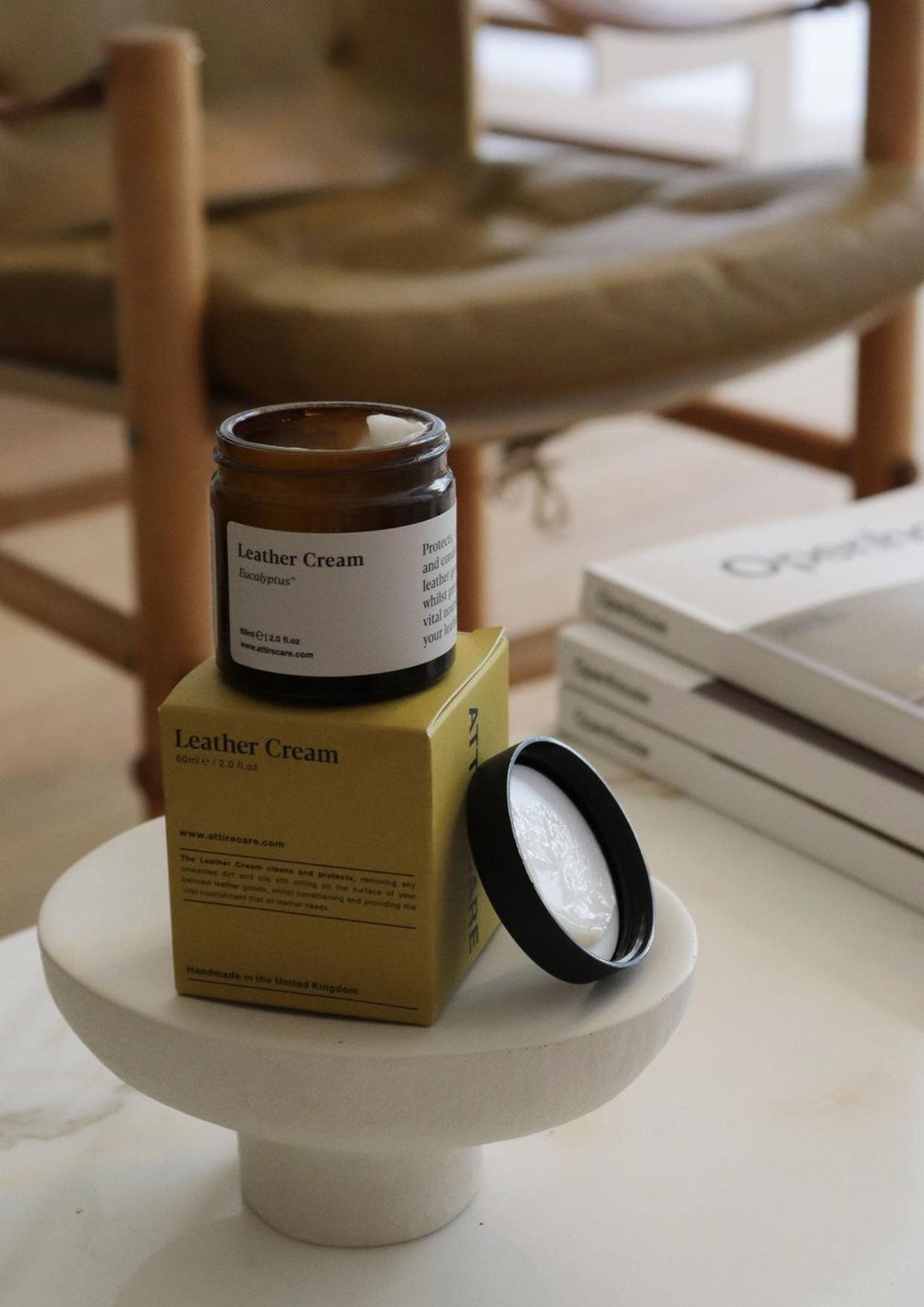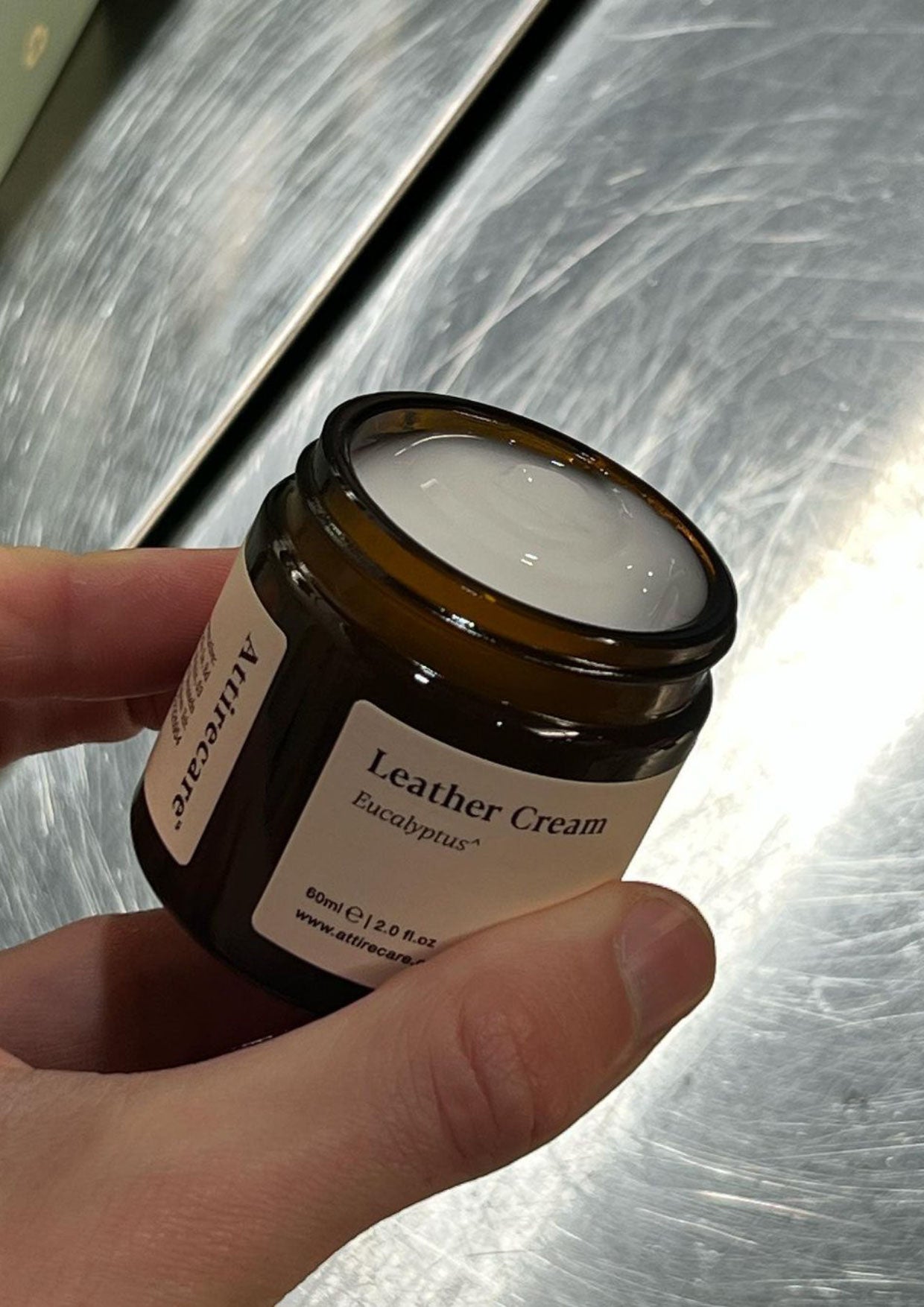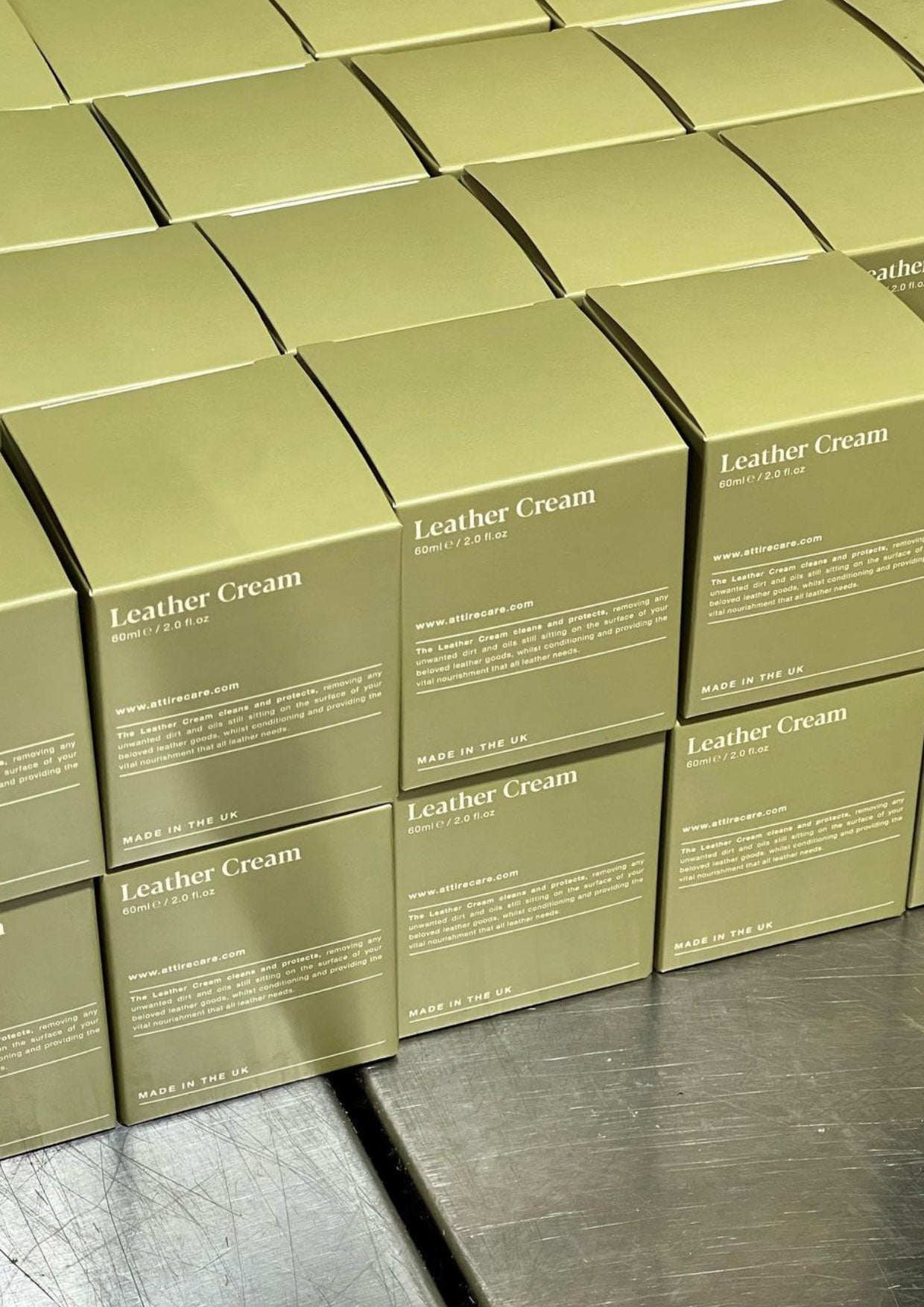 天然皮革抗菌護理膏(桉樹)|Eucalyptus Leather Cream
Sale price

HK$139.00
Regular price
(/)
Pickup available at afterhours. Studio
Usually ready in 24 hours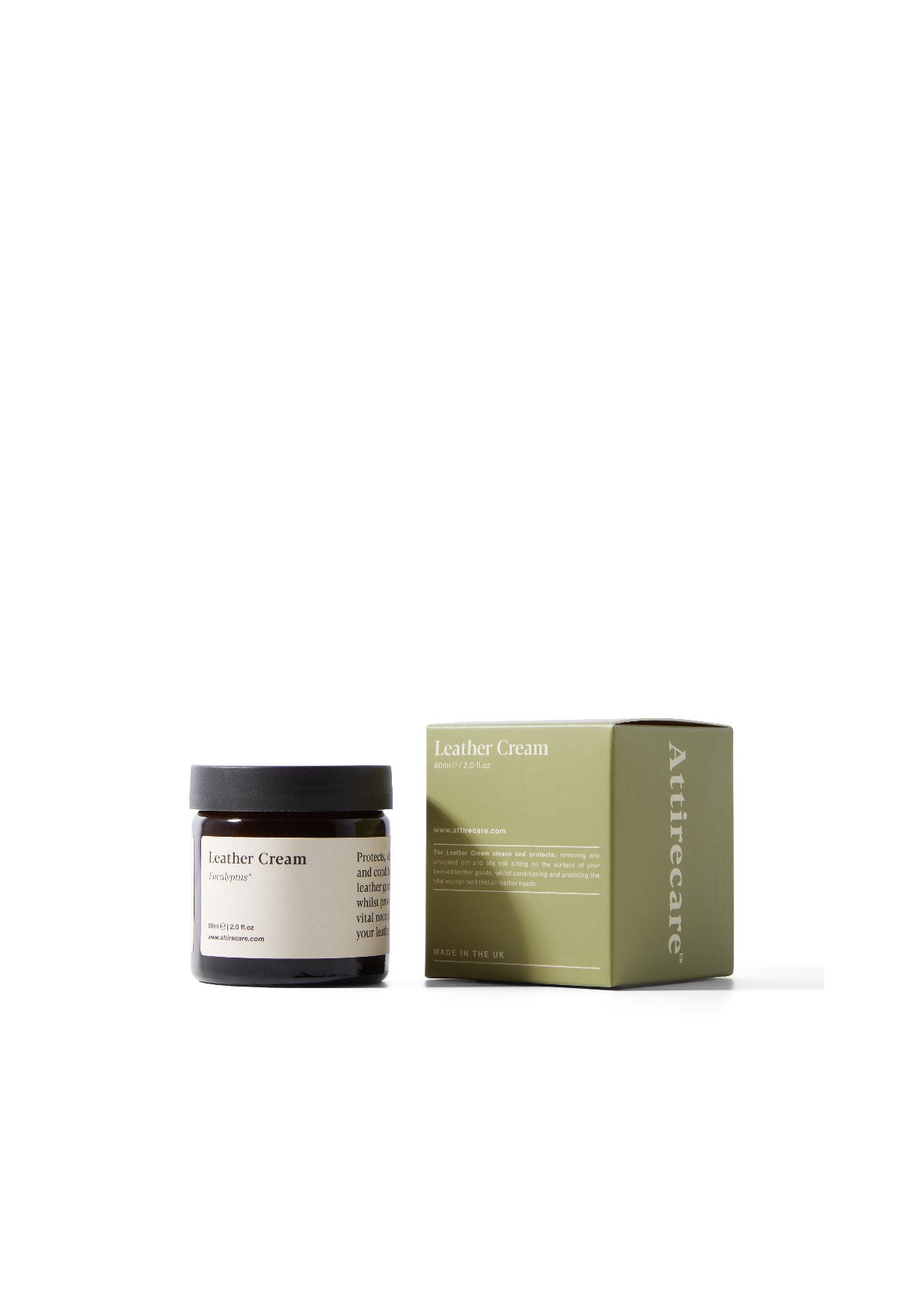 天然皮革抗菌護理膏(桉樹)|Eucalyptus Leather Cream
60ml
afterhours. Studio
Pickup available, usually ready in 24 hours
afterhours.
5B, KT ONE, 158 Wai Yip Street
Kwun Tong
Kowloon Hong Kong SAR
+85295422337
Eucalyptus(桉樹)- Herbal, Sweet

+ 桉樹使皮革表面易於清潔
+ 適用於所有類型的皮革
+ 留下清新的香氣
+ 維持皮革柔潤有光澤

皮革中含有自然的油和水分,隨著時間的推移,這些油和水分會逐漸透過皮革的細孔蒸發,導致皮革開裂甚至剝落。

重點保護皮革維持柔潤有光澤的狀態 — Attirecare皮革護理膏含有所有皮革製品所需要的營養和脂質,並適合用於所有皮革。它可以清潔和保護您珍貴的皮革製品表面不沾上污垢和油漬,防止皮革變乾、開裂及褪色,延長皮具使用壽命。

配方混合了新鮮桉樹,有效提高清潔效果,並同時具出色的消毒特性。

Leather naturally holds residual oil and moisture, and over time this residual oil and moisture tend to vaporise through the apertures of the leather, causing it to eventually crack.

Attirecare's leather cream is suitable to be used on all types of leather to prevent this from happening, whilst conditioning and providing the vital nourishment that all leather goods need. The leather cream cleans and protects, removing any unwanted dirt and oils still sitting on the surface of your beloved leather goods. Our formula has been blended with fresh Eucalyptus to help bolster the cleaning effectiveness whilst also naturally carrying great disinfectant properties.
WAY TO USE
用乾淨的布沾取少量皮膏,慢慢地在皮革表面上打圈塗抹,直至皮革回復光澤。
我們建議每月對皮具進行兩次護理,以確保其經久耐用。 

Apply small amounts of the cream onto a clean cloth. Slowly work into the leather in a circular motion. Buff to a shine.

Frequent treatments will ensure all leather shoes and accessories last as long as they were designed to do so. We recommend treating leather shoes two times per month, or as often as required. This will, in turn, reduce the likelihood of the leather cracking.

INGREDIENTS

脂肪酸酰胺,水性乳液衍生物。
Fatty Acid Amide, Derivative In Aqueous Emulsion

60ml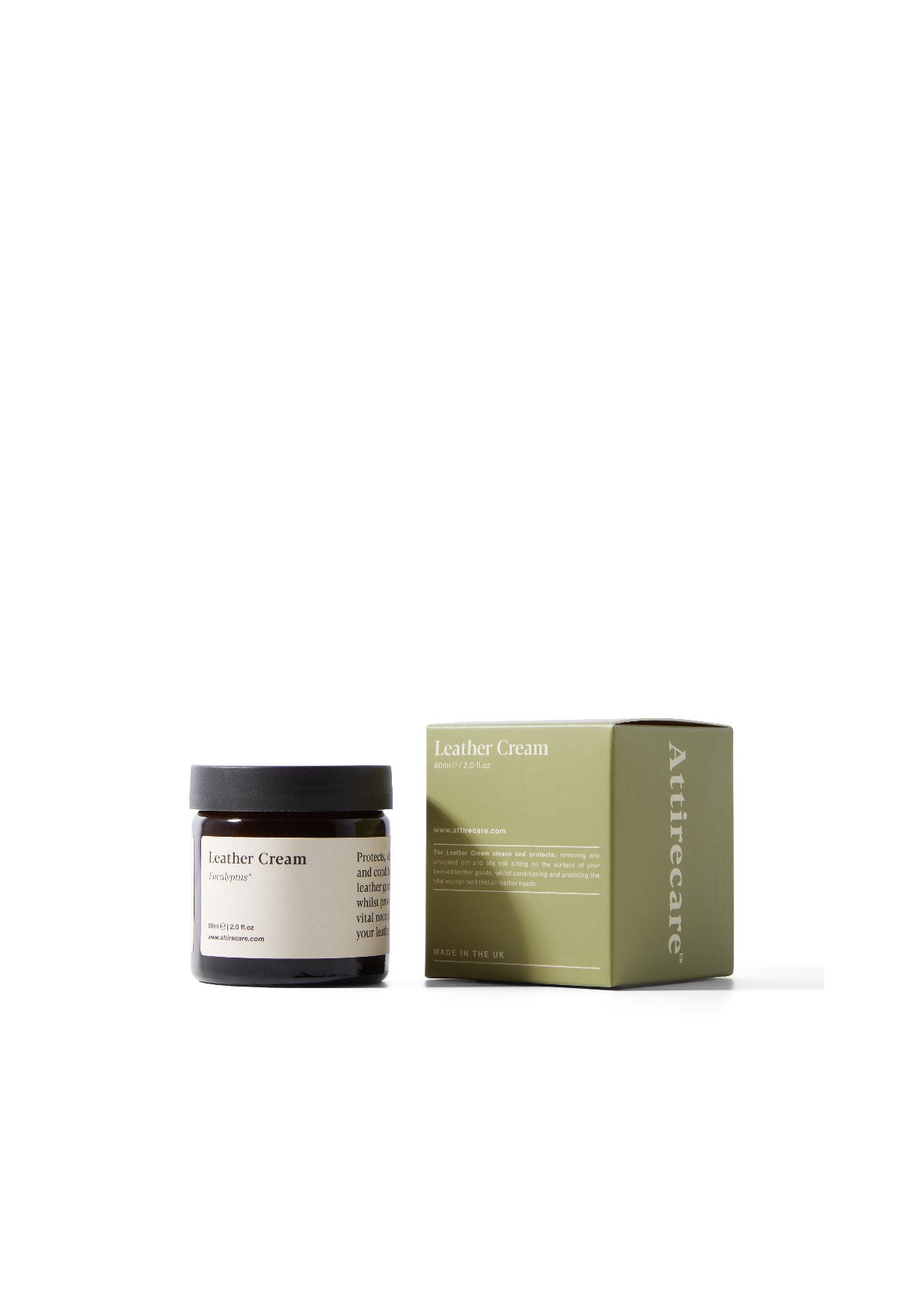 天然皮革抗菌護理膏(桉樹)|Eucalyptus Leather Cream
Sale price

HK$139.00
Regular price
Choose options